Capturing a Deep Freeze on the Maine Coast
Posted by Larry McKay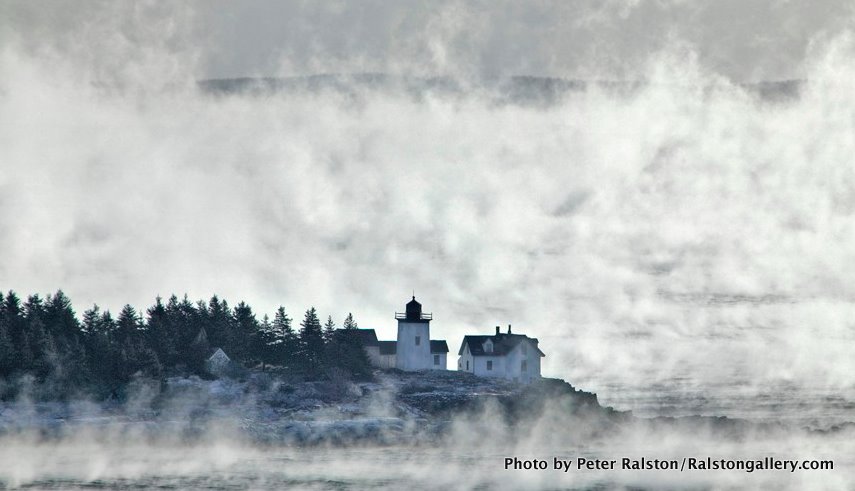 I'm thinking that this might be the last photograph of the winter series. It's coming on late February and I have now heard birds calling in the morning and heard the first doves cooing at sunrise, which, by the way, now arrives at 6:16.
We had ice in Rockport Harbor yesterday and the days still provide "character-building" temps and winds, but the back of this generally mild winter seems broken. I will long remember this as the year in which I did not once start the snow-blower nor did I roof-rake. Of course, having said that, I have just tempted fate and we will no doubt get a freakish storm any minute.
But to honor Maine Winter, even as we now all hope to press straight into spring with minimal mud-season, here's one of my quieter winter images that does make clear the power of the season at its best.
Sea smoke is a wonderful phenomenon, when the bay is literally steaming with a differential of fifty-some degrees, with the water in the high 40s and the air down to minus 10 or so. Once or twice, years ago, I've run RAVEN in conditions like this and it is most extraordinary. Not at all like fog that settles down upon you, sea smoke rises right out of the water and, just like the steam it is, wafts silently upward into the strangely altered, glowing silver sky. It can be entrancing.
But there lies danger and death within this beauty. When it's this cold you make sure to take no chances, none whatsoever. One slip, one significant miscalculation and, well, you are immediately in a world of trouble. Staying, perforce, on one's toes and being hyper-aware is very stimulating to me. As is, of course, the frequently exquisite light cloaking the ever-present danger.
And now, ever onward, into spring……