Courtship: Valentine's Day on the Coast
Posted by Larry McKay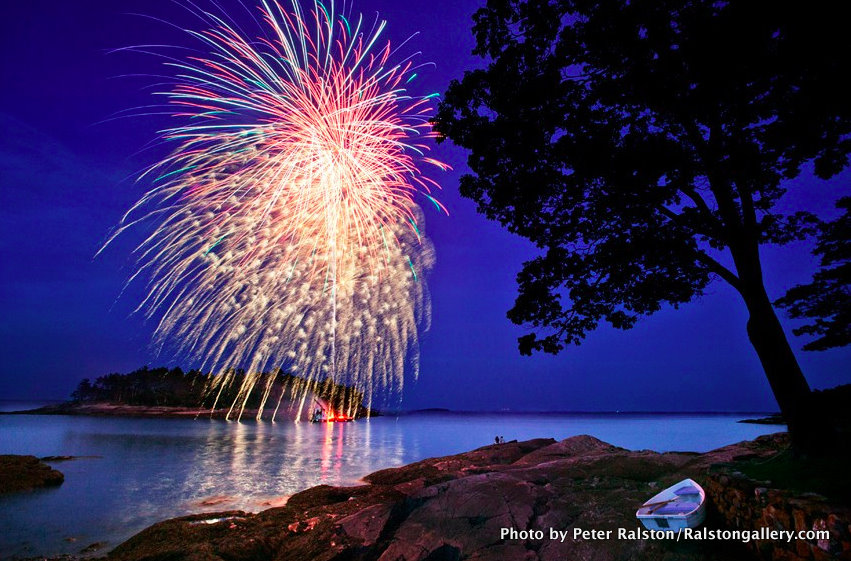 I love fireworks…I mean I really love them. As a boy my brothers and I made our own (our poor mother!) and later we were very good at procuring some fantastic bootleg stuff. In my headier days as a photojournalist, I once actually convinced Connoisseur Magazine to send me to Monte Carlo to cover the final round of competition in the International Fireworks Competition. But that's another, much longer story… for another day. But, you get the point about me and fireworks.
On July Fourth, 2010, my family and I went to see the Camden, Maine, show from the incredible shore-side property of dear friends there. I took a tripod with me since I wanted to shoot the local show properly.
It was a lovely evening, really perfect in every way, and I made numerous exposures of the show. At the time I was particularly interested in composing the image with the overhanging oak and the adjacent skiff in mind. The skiff especially got my attention in that I thought it was sort of sexy there in the deepening twilight … I fantasized a lover having rowed from a boat or from across the harbor to visit their paramour. The next morning I reviewed what I had shot the night before and lo and behold, discovered that there was a couple huddled together out near the outer edge of the ledges on the property.
Well, that kicked my ever-active imagination into full gear and then some. All of a sudden this image was one big metaphor. It fully spoke to relationships, a subject never far from my mind. The fireworks ("I felt the earth move" kind of fireworks that lovers know so well), the damp warmth of the night, the sexy night itself, the skiff, the couple down on the rocks — it all became a representation of the thrill of courtship. And in so doing, an even larger question presented itself to me: what becomes of relationships when the thrill is gone, when the fireworks have given way to the cold and cutting winds of winter storms, when the ground is frozen rock-hard and the skiff is hidden away in storage? What then?
May your lives and loves be filled with lasting love. Here's to fireworks, and here's to surviving the storms.
Happy Valentine's Day next week!