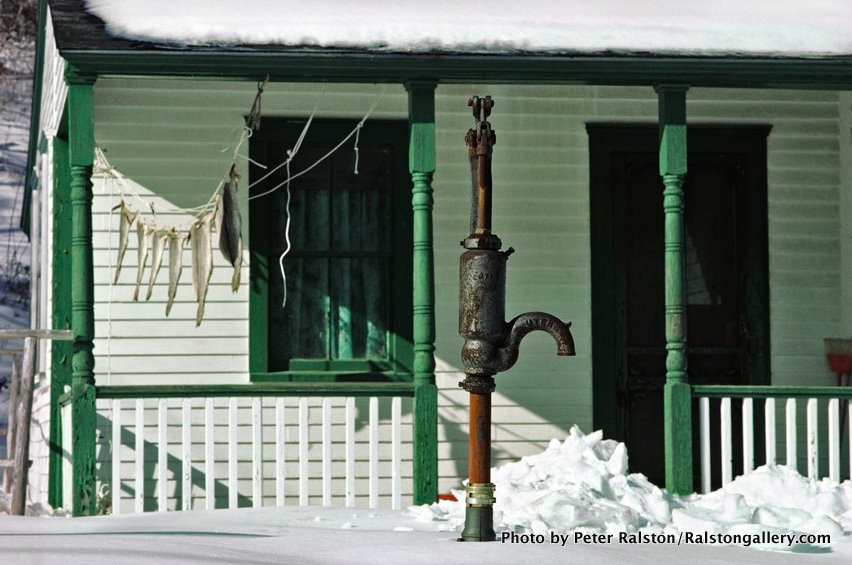 Maybe twenty-five years ago I was driving down around Owl's Head, just south of Rockland, when I saw this. It pretty much says it all about winter in "old" Maine. Aren't too many pumps left in front yards, and you sure don't see too much cod hung out to dry anymore.
As I beheld the scene I was seeing – and dreaming – into the past, and this is a statement of my respect for those who have gone before.
I know Maine winters, and as far as making nostalgic, Currier & Ives-like images of winters here on the coast, well, winter is just plain not like that. It's hard and it's tough, but, of course, nothing like it was in the past. Today, well, it's absolutely cushy by comparison. Sure the darkness and cold still take their toll to some extent, but we have it so very easy now.
There was, then, a simplicity that we, perhaps, lack today. In a world that gets busier and noisier and faster and more connected all the time, I look at this and it slows me down. It helps me collect my thoughts, take a deep and centered breath, and quietly tip my hat to those who live here.
I don't know them, but I bet they made chowder of the finest kind.