Decisive Moments of March in Maine
Posted by Larry McKay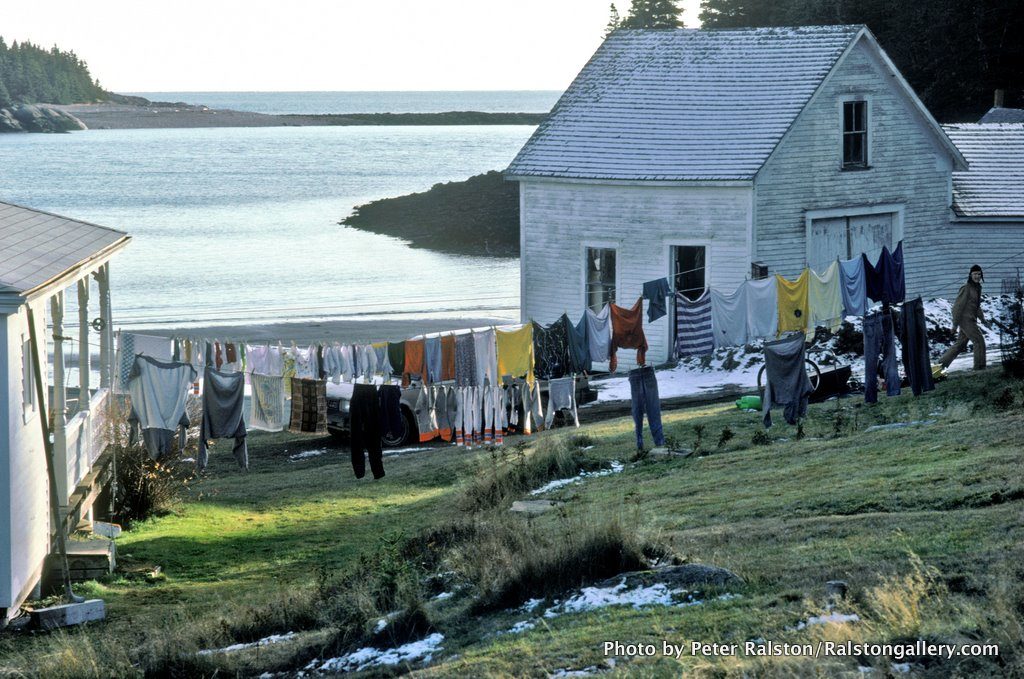 Probably looks pretty much like this out on that high island today. We had a little snow not too long ago, after several unbelievably welcome days of shirtsleeve weather. And that's Spring in Maine for you.
This is when we all gird ourselves for mud-season, to be followed by black flies and then mosquitoes. Spring teases us. If you've been here for long you know not to get your hopes up too much, too soon. And so it goes. There's no place I'd rather be, but….
I'm in kind of a cabin-fever, muddy, gray kind of place as I write this today. But, despite today's quasi-funk, there's hope embedded in this image. There's some nice green in that south-facing patch of illuminated grass. The wash is only on the line because it's not that cold.
I was down that far end of the island, driving and walking around with a friend, when we stopped and both made a few desultory exposures. Nothing special, just a scene and then….the man walks by….and looks our way….at exactly the right second.
So that's how it often works for me, the way it works for a lot of us who deal in very small fractions of seconds. Henri Cartier-Bresson, The Master of such things, called it "the decisive moment." I was lucky on this one, but as someone once said, "luck favors the prepared."
In the couple of decades since then, this property has changed hands. Other friends own it now. I don't know if they hang wash. In fact, they go off island come winter, albeit to another, nearby island. Things change.
This was just one of those fractional moments
I was there. That's all.
My next story will be considerably cheerier, I promise.
It's March.
To see more of my work, click here.