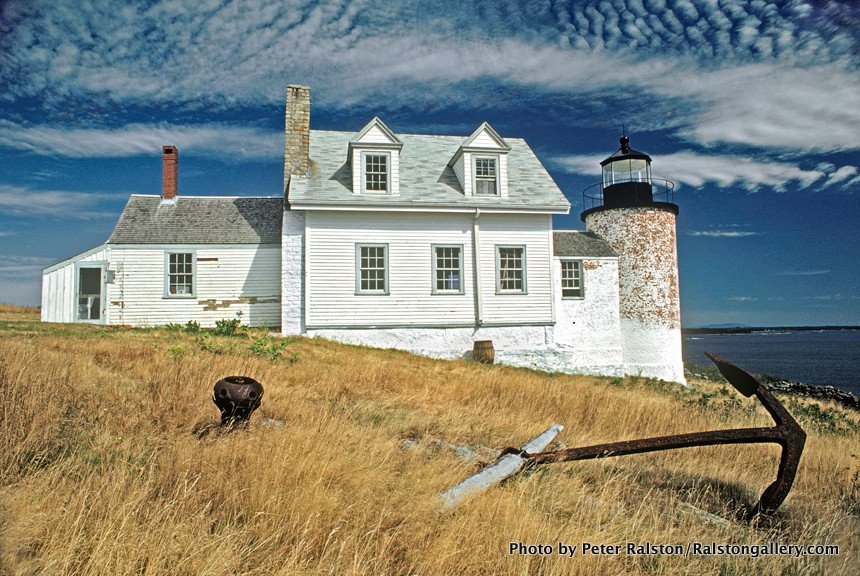 In 1978, Betsy Wyeth bought Southern Island off the mid-coast of Maine. It was to become one of her most elegant and fanciful creations in a long life of making remarkably unique homes for herself and her painter husband, Andrew Wyeth.
1978 was also the year in which Betsy and Andy invited me to spend the summer with them at their primary home in nearby Cushing. It was an introduction that would change my life forever.
The Wyeths were our closest childhood neighbors and in later years became second-family to me. They allowed young me the run of their home and property on the banks of the Brandywine River, watched me whirl out of Chadd's Ford and into the turbulent late-60s and early 70s, and then as that version of me settled down a bit, "gave" me Maine. They knew exactly what they were doing and did everything they could to help me understand this, for me, exotic new place.
As I have recounted elsewhere, after the heady years of travel and photojournalism, in Maine, I truly found, or, I should say, was given "home."
And even as I was absorbing all the wondrous things they were sharing with me that summer, Betsy was about to lead the way, in a very big way, into the island phase of their – and, swiftly, my own – lives.
To make a long story short, she bought Southern, a gem of a 22-acre island, complete with lighthouse and bell-tower. The land and buildings had been frugally maintained for many years, and there was much work to be done to bring it all up to Betsy's standards, or, I should more accurately say, vision.
Here, in this photograph, I portray the keeper's house and light tower getting the very first coat of white paint under Betsy's care. It's a very simple image, dangerously close to being merely "pretty," but for me it's much more. It's the first step along an extraordinary path that none of us – none but Betsy – could envision or predict at the time.
Here Betsy created their first island home, and it was truly a wonder. As she had previously done at the old schoolhouse in Chadd's Ford that subsequently became Andy's Pennsylvania studio, as she did at the eighteenth-century Quaker mill property two miles upriver, as she had at their Cushing farm, so too, here on Southern, she created a "wondrous strange" home upon which Andy would unleash his ferocious talent.
As is always the case with the Wyeths, the story very quickly becomes far more complex and charged with high drama, but suffice it to say, this image of mine has simply become, in my mind, an icon of the place where the next chapters in all of our lives began.
The title refers to the workmen scraping and painting the buildings for Betsy as well as, of course, the two men in her life – first Andy and then her son Jamie – who would take the muse she had conjured for them and make further and lasting Big Magic of it.
And Southern, it turned out, was only the first of her brilliant island masterpieces.
To see more of my work, click here.