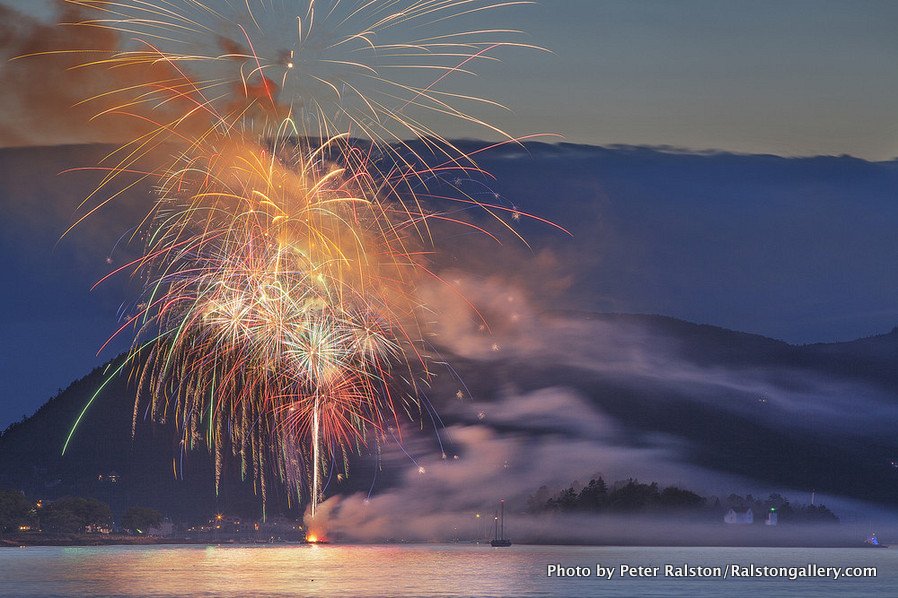 Last week, I fulfilled a three or four year fantasy of stranding myself on a tiny ledge 1.5 nautical miles off Camden. The purpose: to give myself a rock-steady platform upon which to set my tripod and make a few "different" photographs of the 4th of July show, delayed by one day due to fog on the Fourth.
Probably not the smartest thing I've ever done, as it involved scrambling onto the ledge, ominously marked on the charts as The Graves, from a small skiff, solo. The endeavor involved much crawling around on extremely slippery rocks, covered with rockweed and algaeic slime, all coated with beau coup fresh guano — a great deal, in fact, of the latter.
Raven, brimming with family and friends, cast me off in my skiff and lingered nearby as I rowed over to the rocks and gracelessly clambered aboard the ledge. Once I was seemingly safe, off they went, into Camden Harbor to enjoy the show.
So there I was, at long last, marooned out there in the looming dark, tide and moon rising.
Heaven.
It was lovely. The great concussion of the exploding shells, juxtaposed with the muted gong ringing in the gentle swell and the confused cries of the gulls in the dark surround.
It was truly perfect.
And we managed to get me off in one piece, relatively dry, albeit reeking of gull and cormorant shit.
Ah, the wonderful things I get to do in the pursuit of my joy.
One note: in my photograph, "Courtship," you will note a small green light out on the water, between the upturned skiff and the couple down on the rocks. That light is the gong/bell marking the ledge I was on last night. This photo is, in every way, a 180-degree reverse of "Courtship."
To see more of my work, click here.