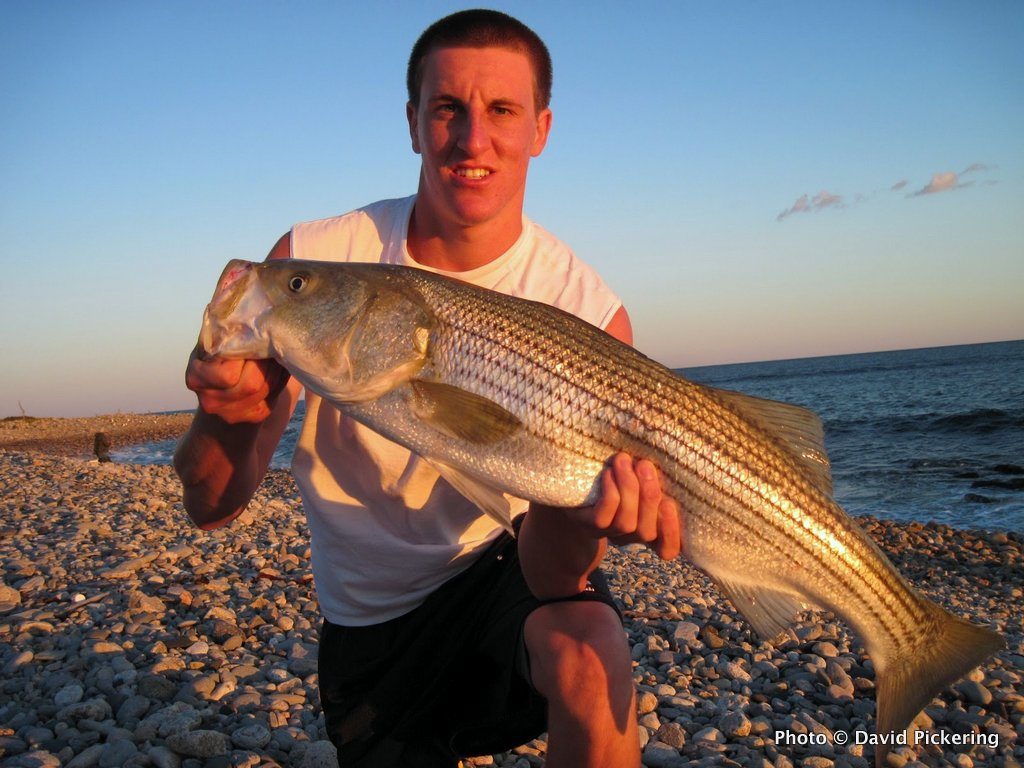 Crazy good. That says it all. There are blitzes going on daily along the Gansett/South Shore oceanfront as the fabulous September fishing continues at a blistering pace. Just drive around, find the birds diving for bait, and there are tons of fish under all that.
I've been surf fishing the last two days and I can tell you that the action has been non-stop. It seems to be mostly stripers and bluefish, although there are a sprinkling of albies around. The rain bait has reappeared big time in the last two days, and there are also pods of mullet and peanut bunker around fueling the blitzes.
The stripers have been all sizes. Between my kids and I, we have landed over fifty stripers in the last two days. Most of these have been in the 20-30-inch range, but a few fish were even bigger. My son, Jon, had a 32-inch fish yesterday (that's him in the first photo) on a small swimmer. Ben's friend, Justin, a beginner, landed a 30-pound striper on his first cast today. And, this was his first striper EVER. Talk about luck!
Everything was working on Sept. 25 as the fish were in a frenzy in the strong southwest wind and rough water. I saw stripers being caught on Cocahoes, bucktail jigs, swimmers, poppers, Jumpin' Minnows, and needlefish plugs. However, the hot plug continues to be that Daiwa Salt Pro Minnow which has taken many of our keepers in the last two days.
The fishing continues to be as hot as it gets in September. This has been an epic month for us in Rhode Island and will go down as one of the best Septembers EVER!