New Tool Helps Investments in Working Waterfronts
Posted by leila murphy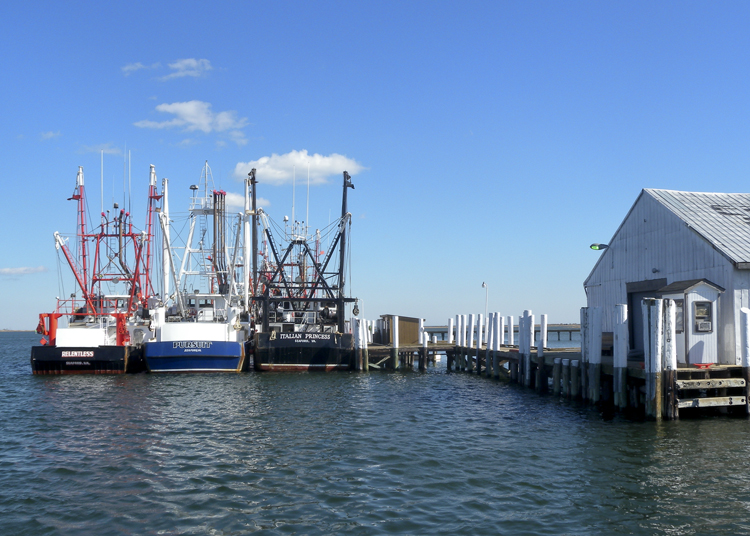 Chad Ballard, the owner of Cherrystone Aquafarms, knows where his company has been. He can point to a more than 100-year history on the Eastern Shore. Ask him where his business is going, and there's a little more uncertainty.
A few years ago, Ballard had hoped to plant an additional 20 million clams by expanding his shellfish aquafarming operations along the seaside of the Eastern Shore, but he lost docking privileges at the nearest boat ramp when the Wise Point National Wildlife Refuge decided to phase out docking for commercial vessels.
"It's their land, I understand that, but it's put a damper on our ability to grow," Ballard says. Without docking at Wise Point, Ballard says he'd need to invest in diesel trucks and trailers to transport heavy boats and equipment from his bayside facility to the seaside. That would take an initial investment of around $200,000 with about another $30,000 annually to operate and maintain vehicles.
These challenges are not unique to Cherrystone Aquafarms or to the clam farming industry. Access to the water is shrinking as historic access points become restricted, fall apart, or get sold. But before Virginia's localities can start prioritizing and preserving working waterfronts, they need to know where these sites are.
"It's the first step in understanding what is defined as working waterfront by locals, where those sites are, what they have in terms of specialized services, accessibility, and the like," says Tom Murray, Virginia Sea Grant Marine Extension Program Leader, who teamed up with Virginia Coastal Zone Management to inventory the infrastructure along the coast. When complete, it will be a tool to promote economic sustainability in Virginia's coastal communities.
A working waterfront is any waterfront property or facility that enables waterfront businesses. Murray, an economist at Virginia Institute of Marine Science, has been in the center of the working waterfronts movement for more than five years. In Virginia, he is credited with bringing together commercial and recreational users who would normally compete with one another for space to work together to preserve access for both interests. Today, working waterways and waterfronts is a national movement that has sparked collaboration between states and national legislation to preserve coastal business.
The working waterfronts inventory includes digital mapping, photos, and information about services, such as dockage, sewage, etc., in waterfront facilities in Hampton Roads, the Northern Neck, the Middle Peninsula, and the Eastern Shore.
Murray says that despite a trend toward decreasing access, preliminary results suggest some redundancy in access sites. Having multiple sites filling the same niche sets up localities to start making strategic decisions. Localities can use the inventory to prioritize investments for improvements that will bring the most benefit to business. Investments might include anything from dredging and other waterway maintenance to bringing electricity or water to a site.
Prioritizing public access points is especially important as private access decreases. For example, Doug Meredith of the Gloucester County Economic Development Department estimates that two local seafood processors have closed their doors when the owners passed away or retired over the past five years. The loss of those facilities could mean a lot for watermen who need access to processing sites near where they fish.
"If you work in the Upper York, you're not going to [the Lower York River] to off-load. The cost of fuel becomes inefficient for business. As fuel goes up, as the price of raw material goes down, they need short runs to break even. If they can't get those runs, they can't go out," Meredith says. In other words, you need the right access in the right places.
Ballard's company also relies on private landowners for access. He says that his crews have around fifteen different access points on private property throughout the Eastern Shore.
"We are working with a lot of great landowners that allow us to use their property to access the water," says Ballard. "However, we are only able to operate on a small scale at those locations because of their residential nature."
These private agreements work for now, but if the land gets sold, it will be up to the discretion of future owners whether he can do business there.
"To get the kind of access we truly need, you would have to build a good-size ramp with parking and docking," Ballard says.
With the rising demand for coastal property, many aren't optimistic that private owners will continue to be so willing to cooperate with businesses. According to U.S. census data, Virginia ranks in the top five states for coastal population increase. The population of coastal counties increased by nearly 50 percent from 1980 to 2003, and more than 180,000 building permits were issued for single-family and multifamily residences in Virginia's coastal counties from 1999 to 2003.
It's an upstream battle, but for coastal communities in Virginia, the key is maintaining economic diversity and balancing future development with current industry.
"Working watermen are an integral part to this economy and community," says Meredith. "You certainly don't want to kill historic industry in your county to get those developments."