USHarbors Releases Free App and Digital Magazine
Posted by US Harbors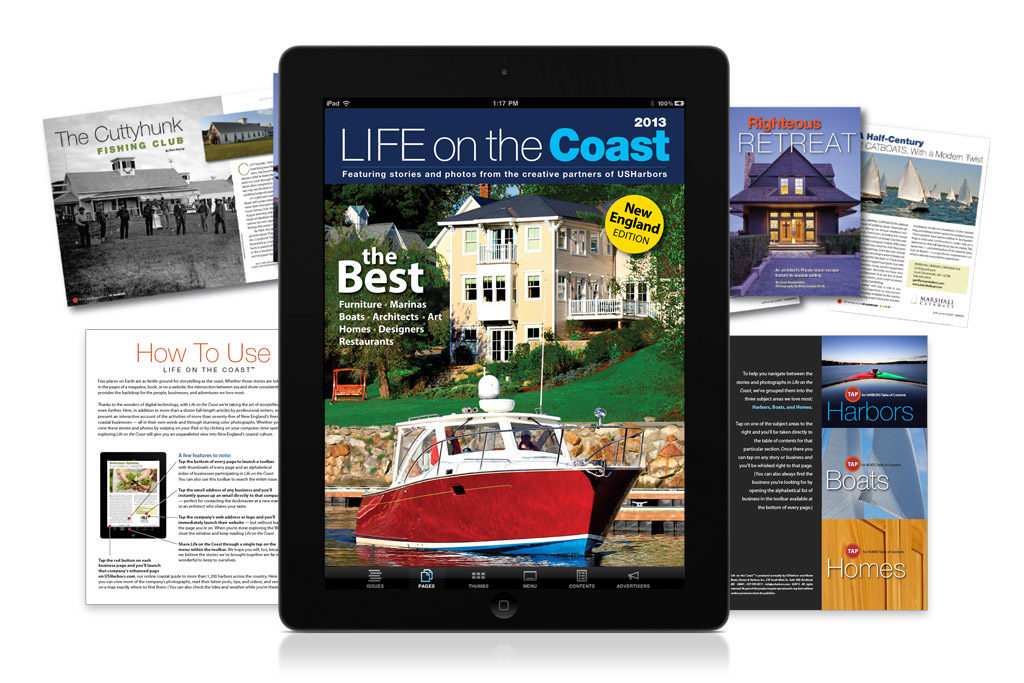 The crew at USHarbors and Maine Boats, Homes & Harbors, Inc., are delighted to announce the release of Life on the Coast, a new, free, 132-page interactive digital magazine and mobile app celebrating the finest businesses, activities, and destinations on the New England coast.
Life on the Coast is available as a free iPad or iPhone download in the App Store or through USHarbors, as well as directly through any web browser. In addition to more than a dozen full-length articles by professional writers and photographers, Life on the Coast presents an interactive account of the activities of more than seventy-five of New England's finest coastal businesses — all in their own words and through stunning color photographs. Every page has been optimized for the iPad in both landscape and portrait orientations, taking advantage of the tablet's tremendous resolution to offer a visual and reading experience that is unparalleled.
CLICK HERE to download Life on the Coast to your iPad.
CLICK HERE to download Life on the Coast to your iPhone.
CLICK HERE to view Life on the Coast in your web browser.
For boaters and other coastal travelers, Life on the Coast offers an inside look into the people, businesses, and locations that line the shore from Rhode Island to Maine. Every article includes links to more information about individual businesses and locations on USHarbors, while the app's integrated email and web tools allow readers to contact businesses directly — perfect for contacting the dockmaster at a new marina, an architect who shares your taste, or a boatbuilder or furniture-maker whose craftsmanship matches your needs and desires.
"Almost every boat these days has an iPad in the cockpit, and for all coastal travelers the smartphone is becoming as vital as a pair of binoculars," says USHarbors President Jamie Bloomquist. "Life on the Coast takes advantage of these powerful devices to present photographs more clearly than we'd ever thought possible. And by incorporating web and email interactivity throughout, we're helping readers take the story even further."
USHarbors, a division of Maine Boats, Homes & Harbors, Inc., provides free tide charts, weather forecasts and conditions, and Local Knowledge for 1,200 harbors across 20 coastal states. More than 200,000 boaters and other coastal travelers visit USHarbors every month to plan their coastal adventures, research the finest seaside businesses, and learn about new adventures and opportunities happening along the shore.