Waking up at dawn, flanked by mysterious Devil and Bold Islands, is a good start to a memorable sail in my book.
Maine's civilized sailing breeze doesn't rush. Following a leisurely breakfast onboard, the increasing sunlight reveals a few dark-rough patches of water outside our snug anchorage. Wind!
I don't feel it (wind), hoisting the mainsail. Then as the head of the sail reaches the masthead, the Dacron gently undulates. Freeing the furler, the genoa gently unrolls itself, fills, and draws our bow downwind. We ghost through the anchorage in silence. We're underway.
Today we're headed toward Isle Au Haut. I know we can sail there, I'm just not sure what course we'll take. The wind has the say on that.
Picking up a slow but sure windward tack outside of Devil Island, the gap ahead between Millet and Saddleback Islands is a route the wind will provide. We run up close along the shore of Millet for a close look at the deserted island, then coast through the island's lee and pick up the light breeze on the other end.
It's an hour-long lovely first tack, 3 nautical miles, nearly to Southern Mark Island. But summer morning wind can be fickle. Nearing the island, as if a switch was thrown — our wind, suddenly, turns OFF.
We're left to ride the tidal current through a cat's cradle of lobster buoys and warp. Curiously, we stop. Raising the centerboard relieves the tension and an iridescent blue pot buoy bursts to the surface off our stern, with a loud "Ploosh!".
Start the engine? The silence is wonderful, the sun warm, and we have the time to sail. Sure enough, Dacron begins to quiver again and after swinging the wheel, adjusting sheets, we're attached to the light wind once more. A memorable sail is best, continuous-lulls and all.
Each tack is a little faster as the morning wind freshens and Isle Au Haut draws nearer. By midday, a predictably robust 10 to 15 knot southwesterly fills in around us. With increased boat speed, our pointing to windward gets sharper and course options grow. We easily trim the leeward coast of Merchant Island that needs rounding to allow a last tack into Isle Au Haut Harbor.
Sailing briskly through lobster buoys thick as candy Jimmies on blue frosting, a few thump along the bottom of our boat. Old boats aren't perfect but ours slithers over lobster gear under sail. That's a fine feature for a sailboat in Maine.
A memorable sail doesn't always come easily. Beyond Harbor Ledge off Merchant Island, we crank and pinch up for all we're worth. I calculate a bearing that should allow us to sail between Merchant and Hardwood Islands, on one tack. We slice toward the tight wicket ahead. Ha! No way we'll clear Merchant, I see.
So, we fall off for speed and ready for a second short tack, back toward Hardwood Island. Winches grind-tack-grind-tack, then we're on the course we needed to clear our way in.
Our final tack — the finale' of a memorable sail — is sizzling fast. Point Lookout on Isle Au Haut grows larger and the waters flatten as land closes in around us. It's all over too soon and sails have to come down, quickly.
Tied to a mooring in Isle Au Haut Harbor, we toast the day. As memorable sails go, this was a triumph. Surely the pinnacle of the season, we agree.
"Not to be repeated", I think to myself the next morning as the sun rises over Isle Au Haut. Then I spot a dark patch on the glassy harbor. Wind!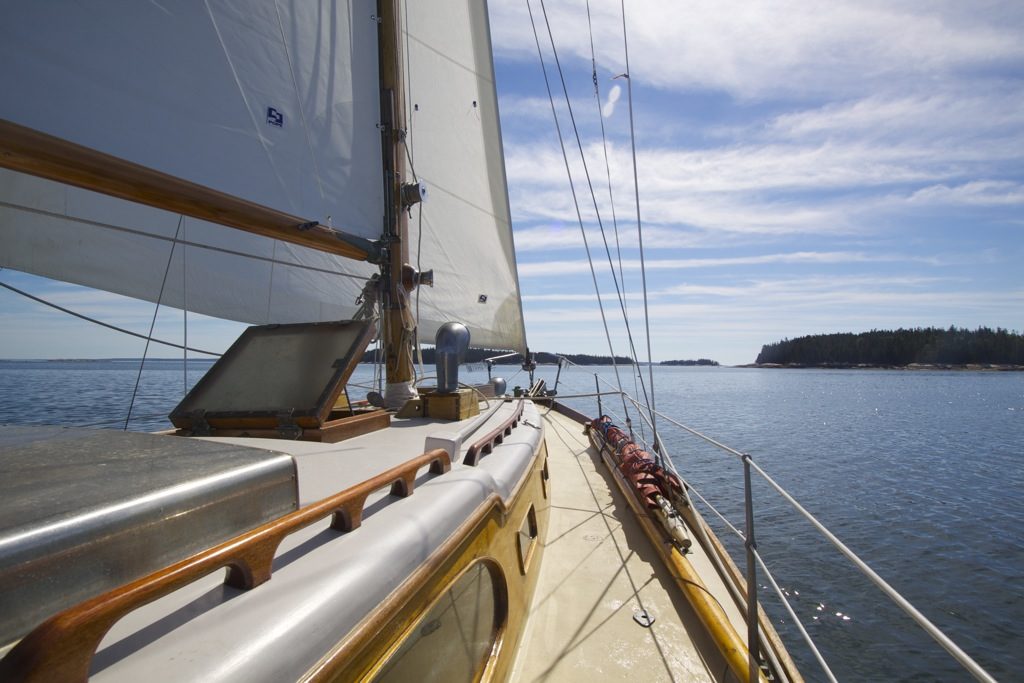 Photos of My Maine Summer: A Morning Sail to Isle Au Haut