IN 1996, sailing enthusiast Donald Tofias approached his
friend, naval architect Joel White of Brooklin Boat Yard, in
Brooklin, Maine, to design and build a traditionally styled,
cold-molded wooden yacht inspired by the Nathanael Herreshoff-
designed NYYC-50 (a 75-foot-long boat).
Two long, lean W.76s started the W-Class Yacht Company,
named for Joel White and, with the W-Class W.46, W.100 (still
in concept), and W.37, rejuvenating the spirit of early 20th
century racing.
In 2015, Tofias debuted the W-Class W.22, a sloop based
on Joel White's 1990 design No. 47, Lala, updated by White's
son Steve White, and built by Alec Brainerd of Artisan Boatworks
of Rockport, Maine. Hull No. 1, Filly, and Hull No. 2, Colt, launched that year. Both are sailing on Lake Worth, Palm Beach, Florida, where the dream
is to create a fleet of W-Class W.22s.
The debut originated in Tofias' search for a trailerable
shoal-draft boat to explore the many lovely inshore destinations
with limited depth. The W-Class W.22 draws only 1
foot 10 inches with the centerboard up. A weighted centerboard
drops through the keel to a depth of 5 feet 7 inches
for increased windward performance. After mulling over
the idea with many people, Tofias identified Joel White's
design No. 47 as a possibility. Steve White fine-tuned the
keel, reshaped the lead bulb, modified the rudder, tuned
up the stern, made the boat a little wider, added a bit more
freeboard, and hollowed out the cheeks, matching the
beauty of the W-Class W.46 and W.76, which forces oncoming
waves to splash outward from the boat rather than over
the bow.
The large cockpit, fine woodwork, and simple aluminum
rig are designed for comfort, elegance, and easy use.
"It's a lovely boat to sail," said Tofias.
W-Class Yacht Company
One Washington St., Newport, RI 02840-1513
401-619-1190
[email protected]
w-class.comExcerpted from Boats of the Year 2016. Click here to read more stories from the latest edition.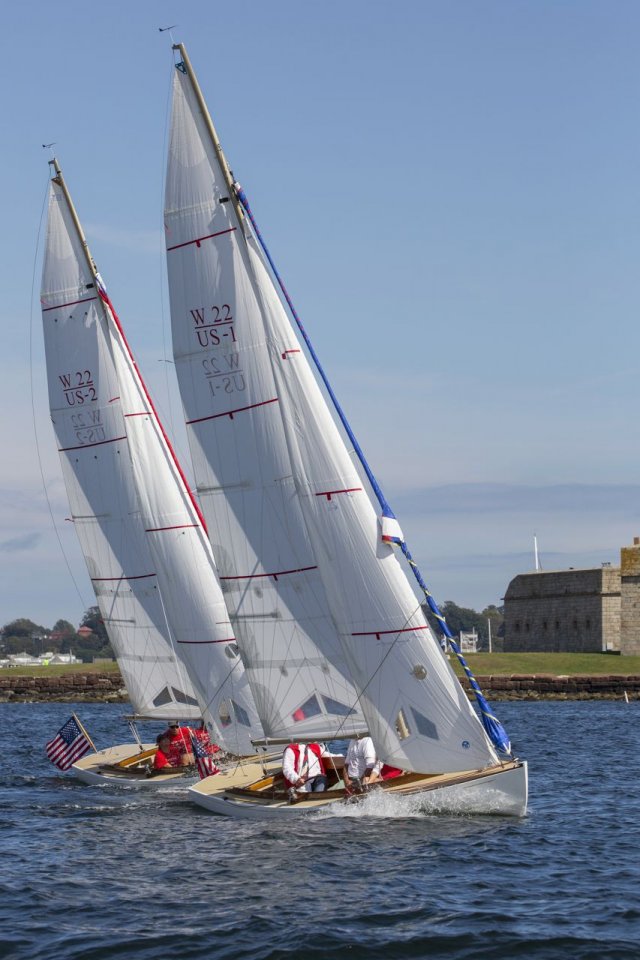 Photos of W-Class'Ñ¢ W.22 Inspired by Elegant Joel White Design