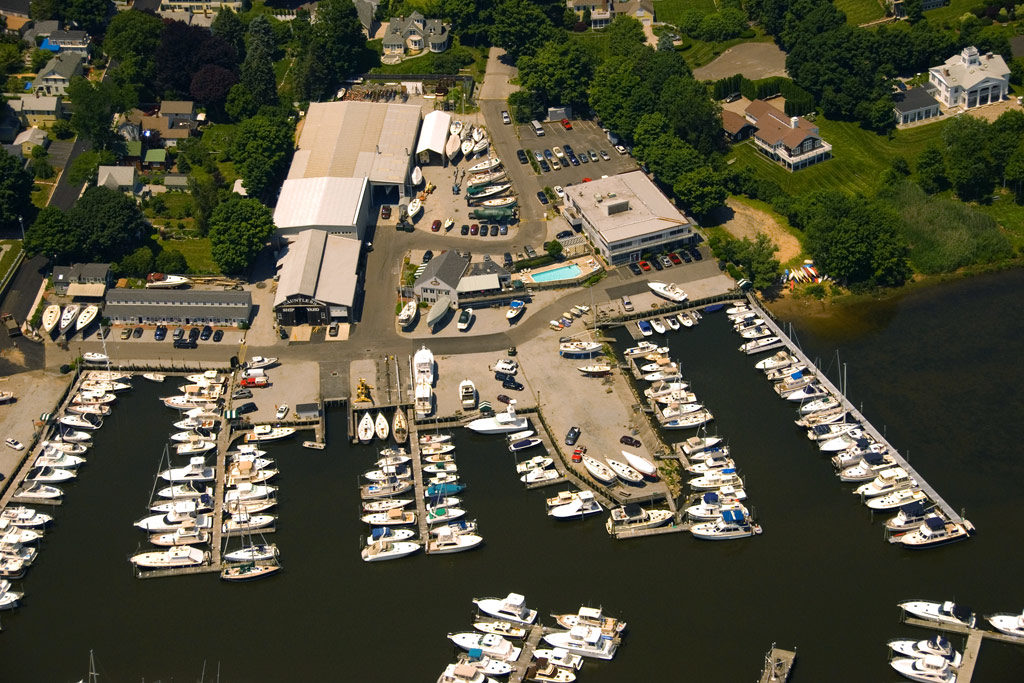 Two great locations offer modern fully-equipped facilities and state-of-the-art service work, in an historic village known for three centuries of maritime excellence. Essex is tucked into the west bank of the Connecticut River five miles from Long Island Sound. A number of nearby coves and inlets, such as Hamburg Cove and Selden's Creek, are ideal inlets to explore by boat.
The Shipyard is located in protected North Cove, just off the CT River. 100 floating docks accommodate boats from 20' to 100', and are outfitted with 30 and 50 amp power, water, cable and free WIFI. Brewer Dauntless Shipyard, c.1917, was named for the schooner Dauntless, one of the late-1800s America's Cup yachts. The yard developed a strong reputation building many wooden vessels until the late 1930s. The yard's focus turned to yacht maintenance, which it continues to do today.
The Marina is located on the west bank of the CT River just north of marker R-26 in the middle of the Essex mooring field. 35 floating docks, and a 150' fixed dock (which also serves as the Valvtect fuel dock) can accommodate any boat. Ample electric is available from 30, 50 to 100 amp service, as well as water and WIFI at each slip. Additionally, the marina has 55 moorings, which are serviced by the marina's launch.
Full Service, Year Round - Our experienced marine technicians are available to take care of your (and your boat's) needs, year round. Offering a wide range of manufacturer-certified services, our skilled staff have an excellent reputation in the industry.
CT Certified Clean Marina - Brewer Dauntless Shipyard & Marina is proud to be recognized as a CT Certified Clean Marina.
Photos of Brewer Dauntless Shipyard