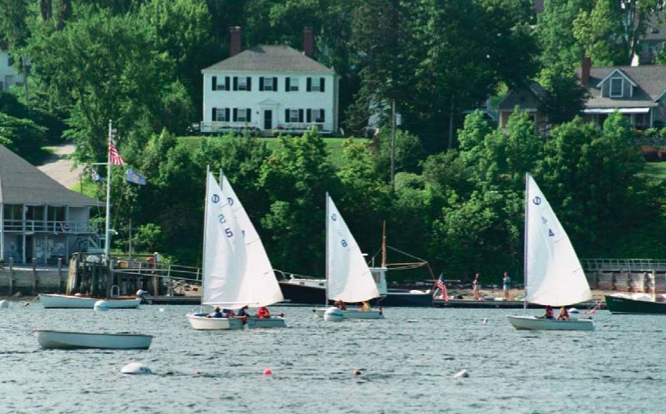 The Castine Yacht Club, part of the Castine Golf Club located on Battle Avenue, is a private club dedicated to the encouragement of yachting in Castine.
Stop by the Club, ask a member of the staff for application materials, or contact commodore Tom Pedersen for everything you need to know to apply to become become a member of the Castine Yacht Club.
The use of our facilities is not offered on a commerical basis, but rather as a courtesy extended to visitors from other yacht clubs. To help cover our costs we ask visiting yachtsmen to contribute according to the schedule below and to kindly observe our rules.
MOORINGS: Five guest moorings are available for the use of visiting yachtsmen at their own risk. These are marked by white round floats with blue bands and have CYC GUEST # 1, 2, 3, 4 or 5 on them. Any yacht over 35' should use the outside moorings-- # 3 & 5. There is a 24 hour time limit on each. Please see the Yacht Club staff for assistance. A contribution of $25 per night is customary.
DAYTIME DOCKAGE: Please keep tie-up time as brief as possible from 0900-1800. Unattended yachts may not be left at the dock for more than 60 minutes. Please be sure that the easterly most float is left clear at all times for members' use.
OVERNIGHT DOCKAGE: Space and weather permitting, overnight dockage is allowed on the westerly four floats. Floats must be cleared by 0900. Please see the Club staff for assistance on where to tie up. For overnight docking the usual contribution is $30 per night for boats under 30' LOA and $30 plus a dollar ($1) per foot over 30 feet for others.
SHOWERS: Hot showers are available on the ground floor of the Clubhouse. The Club is generally open from 0800 to 2000. Two dollars ($3.00) per person is requested. This contribution should be given to the Club staff directly or placed in the slot of the door of the downstairs office.
GARBAGE: Please deposit garbage (trash), sealed in plastic garbage bags only, inside the garbage shed located under the street side entrance ramp. Because the Town of Castine charges us for waste disposal, we ask that you contribute $1.00 per bag. Please use the blue bin at the lower entrance to the Club for your returnable bottles and cans. We appreciate your cooperation in helping us keep the Club neat.
Photos of Castine Yacht Club