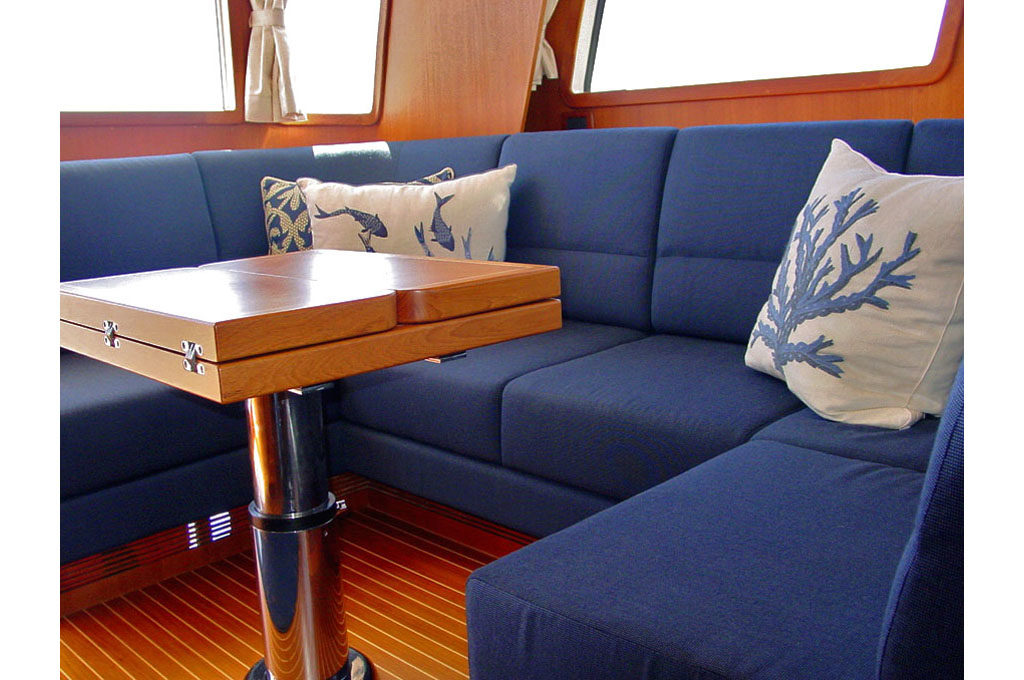 There is only one call you need to make for your onboard interior needs. Whether creating the décor on your new boat or refitting an existing vessel, Onboard Interiors, LLC, of Marblehead, Massachusetts, is a full-service interior design firm specializing in the yachting lifestyle. From classic yacht interiors that ply the waters of the New England coast in summer, to the cozy comfort of powerboat living, our custom-made interiors are designed with durability and style in mind.
With a focus on detail and design, we take time to consult with our customers on their lifestyle needs. Our products and services cater to vessels and coastal homes and include custom-designed sofas, drapery, distinctive pillows and bedding, upholstered furniture, and marine carpet and accent rugs, to name a few.
Our design resume encompasses the J-class and Mega-yacht market and our work can be found aboard the yachts and in homes along the East Coast from Northeast Harbor, Maine, to Miami, Florida, and beyond.
Licensed captain and lifelong sailor Krisha Naroski Plauche' is the heart and soul of Onboard Interiors. Ms. Plauche' is a nationally recognized interior designer and was accepted as a member of ASID (American Society of Interior Designers) in 2012. She is sought-after in design circles for her ability to spot trends and new fabrics in her industry. Her award-winning designs and her own experiences during a lifetime on the water reflect a nautical sensibility to her products that is invaluable and enduring.
We look forward to working with you Onboard!
Photos of Onboard Interiors