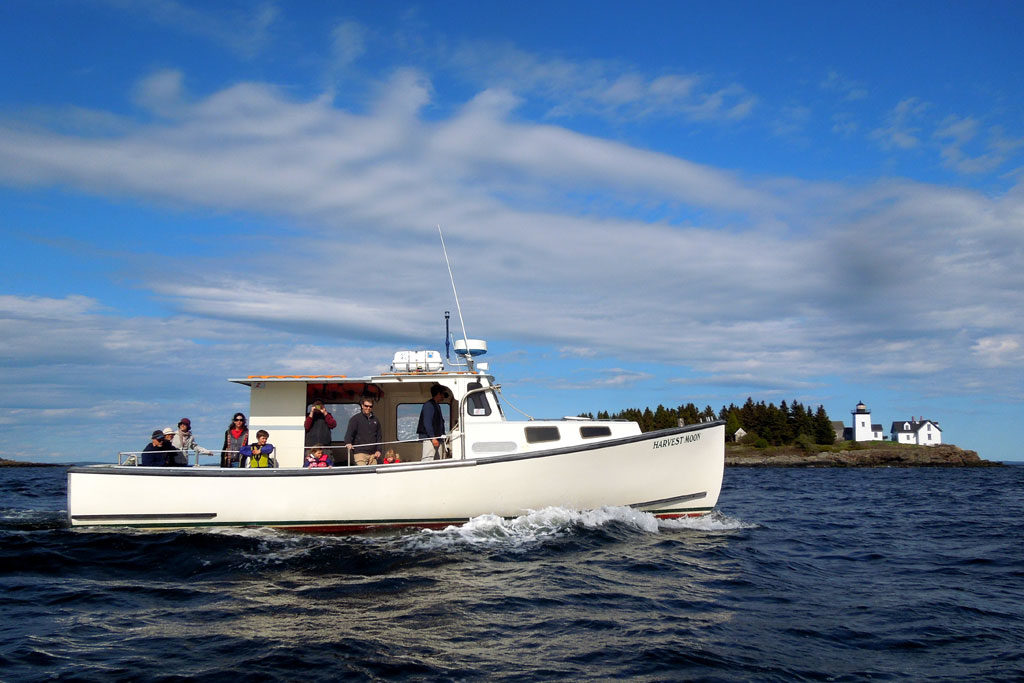 Rockport Charters departs from both Rockport Harbor and Camden Harbor, as well as by appointment at other harbors between Belfast and Rockland. Owner and Captain Robert Iserbyt, a local mariner, has worked on Penobscot Bay for 27 years and Rockport Charters has been connecting locals and tourist alike with the Penobscot Bay ecosystem in an interactive way for the past 15 years. The choices on each excursion are numerous, though our specialty is the 2.5-hour island tour which takes you into the middle of the bay to view one of the most stunning island archipelagos in the world.
Come aboard the Harvest Moon, a stable, 36-foot-long, lobster cruise vessel, as we leave historically significant Rockport Harbor to cruise south to Indian Island and its lighthouse. From there we head east to Robinson's Rock, a popular seal and bird colony, and then continue north to Saddle, Lime, and Job islands, and finally up to Islesboro, where we see numerous mansions and Grindle Point Light. Along the way we see the seabirds, eagles, porpoises, seals, schooners, and lobster boats that work this bay. We cruise back toward Rockport, viewing all the mountains that line the shoreline, and check out picturesque Camden Harbor with its numerous yachts and schooner fleet.
Our other popular offerings are the island lobster cookout and lobster trap haul, and mackerel fishing trips. We also offer sunset cruises and dinner trips to Nebo Lodge on North Haven.
The Harvest Moon is a spacious, stable, 36-foot Northern Bay Lobster boat hull built for year-round use. We have heated indoor or outdoor seating. Licensed for 18 passengers, we make getting away from the mainland a no-hassle experience, no matter when during the year you choose to depart.
Primary pickup and dropoff points are at the Andre Statue dock in Rockport Marine Park and at Steamboat Landing in Camden. We can also arrange for pickup or dropoff anywhere from Rockland to Belfast. Please call or email for reservations. Credit cards are accepted.
Photos of Rockport Charters