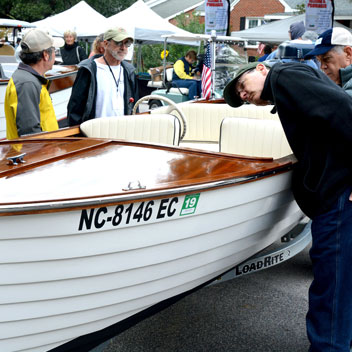 Wooden boats and Southport…the Cape Fear River Pilots guiding a freighter up river, commercial fisherman returning to the Old Yacht Basin with their Brunswick Catch, the Old Smithfield Burying Grounds, hosting NC State's official 4th of July celebration, the Gentleman Pirate Stede Bonnet careening the Revenge through the Cape Fear inlet, and all the local history on display in Southport's NC Maritime Museum and Visitor's Center. All are an integral part of Southport's heritage and are celebrated each year at the Southport Wooden Boat Show.
The 11th Annual Southport Wooden Boat Show (SWBS) for 2020 – WOW what a ride! The COVID-19 pandemic during 2020 forced our first ever virtual boat show!
Last year we held our wooden boat show online due to the pandemic. You can still tour the virtual boat show here: Click to see the 2020 Virtual Wooden Boat Show. We are excited to see what 2021's in-person show will bring. See you in November!
The 12th Anniversary of the Annual Southport Wooden Boat Show will be held on Saturday, November 6th, 2021, in & around the historic Old Yacht Basin in Southport, from 10a.m. until 4:00p.m.