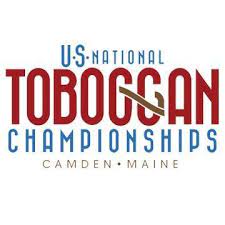 The 2022 U.S. National Toboggan Championships will be held Feb. 11-13. The 31st annual Toboggan Nationals, originally scheduled for Feb. 5-7, 2021, were postponed due to the ongoing COVID-19 pandemic.
Registration for the 2022 races is LIVE. No phone calls to register or buy limited parking spaces please. Registration will be available online, with options to vie for limited reserved and pit parking spaces for groups and teams. The registration form will be posted here as well for those who wish download and print the form,  pay with check or cash, and either mail or drop off registration at the Snow Bowl.
Given the current state of the pandemic and high vaccination levels in Maine, the Organizing Committee will continue to monitor Maine's Covid mandates. Covid Assurance: If the 2022 event is cancelled by state or town officials due to Covid, all 2022 paid registrations will roll over to the 2023 Toboggan Nationals event.