The Annual Contest to find the "Best Harbor" in the U.S.
The Best Harbor contest is a crowd-sourced, online competition that started in 2019.
Sponsored annually by US Harbors, the contest reflects the pride and passion people feel for their local coastal communities.
Each year millions of users around the country have a chance to vote; submit photos, stories and information; and let the world know what makes their harbor the best.
Winners are announced in late May/early June every year.
When the contest is running you can vote here: https://usharbors.com/best-harbor
Want more information? Check out the "Best Harbor" site. 
2020 "Best Harbor" Winners
Best Harbor in the U.S. 2020 — Depoe Bay, Oregon
2020 Runners-Up:
2019 "Best Harbor" Winners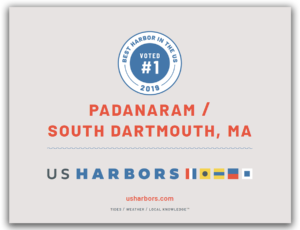 Best Harbor in the U.S. 2019 — Padanaram / South Dartmouth, MA
2019 Runners-Up:
The winner and top 3 runners up all receive plaques commemorating their honor!