A Series About Extraordinary Women Whose Lives are About the Water
Learn more about amazing women around our country who live, work, and have built their lives around the water. From marine photographers, to deep-sea explorers, to commercial fishing boat captains, women are pushing the frontiers on our coasts and in our oceans.
Josie Iselin – Visual Artist, Author, & Seaweed Activist
Carol Cronin – Olympic Sailor & Novelist
Genevieve McDonald – Commercial Fishing Boat Captain & State Politician
Up Next: Kirsten Neuschäfer, Solo Sailor & Golden Globe 2022 Inductee
Kirsten is a life-long sailor with a boundless thirst for challenge and adventure, who has recently been selected as one of the only women ever to compete in the 2022 Golden Globe Race 2022 — a solo, non-stop, unassisted circumnavigation. Participation requires boats with older designs that are under 36 feet, and prohibits use of modern navigational technology!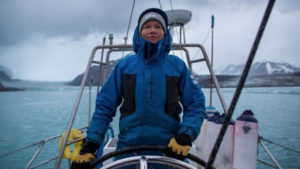 "Women on the Water" Video Episodes
EPISODE 1: Josie Iselin, Artist/Writer/Seaweed Activist
Josie Iselin talks about the vital role seaweed plays in our ocean ecosystems, her work as a visual artist and bookmaker, and the history of the documentation of marine algae.
EPISODE 2: Carol Newman Cronin, Olympic Sailor & Novelist
Carol talks about her experience sailing (and winning!) in the 2004 Olympics, her writing and soon to be released new novel, and how her life as a competitive sailor and as a writer intertwine and feed one another.
EPISODE 3: Genevieve McDonald, Commercial Fishing Boat Captain & State Representative 
Genevieve is a professional lobsterwoman, a politician (state representative for the coastal island communities), and fishing industry advocate… she is also the mom of 2 year old twins. Genevieve talks about her life managing these diverse aspects of her career, her viral "Chix that Fish" campaign that convinced Grundens to launch a line of fishing fear for women, and her deep commitment to the future of the fishing industry.
"Women on the Water" Interviews
Alicia Biggart, US Harbors's Content Editor, talks with Erin Ranney, a professional wildlife camerawoman, commercial Salmon fisher and deep sea video engineer about how she got into such varied lines of work.
Audience Nominations
When we first started our "Women on the Water" series profiling amazing women whose lives are built around our coasts and the water, we got this incredibly heartfelt email from one of our users nominating his wife Bonnie, the owner and founder of Reel Kind Fishing and Tours in Naples, FL. We were intrigued and inspired to talk to this woman who has worked tirelessly–through real challenges–to follow her passion for fishing, coastal education, and her family.
Do you know an extraordinary woman of the water that we should be profiling? Submit your suggestion.
About "Women on the Water"
SERIES ANNOUNCEMENT: Anastasia Fischer, President of US Harbor
Anastasia gives a brief overview about the upcoming series, who we're talking to, and what to expect.