"Women on the Water": Lisa "The Boatanista" Almeida, Freedom Boat Club Owner
Posted
Last Updated
We recently had the chance to speak with Lisa "The Boatanista" Almeida for our "Women on the Water" series. Lisa is the owner of several Freedom Boat Club locations and a passionate advocate for people who want to try boating.
US HARBORS: Thank you so much for chatting with us today. Please introduce yourself and give us a quick explanation of what you do with Freedom Boat Club.
LISA: I'm Lisa Almeida and I live in Jacksonville, Florida and I'm one of the owners, with a partner, in the Freedom Boat Club that has all of Jacksonville and St. Augustine. So that's Jacksonville and then St. Augustine and we have Julington Creek and that's a freshwater location. Freedom Boat Club is a membership boating club. It's the largest, oldest boating club in the United States of America and there's 230 locations plus Canada and France now.
You join as a member and with that membership you get unlimited use of the boats that we clean and maintain and take care of – so it's an alternative to boat ownership. It's really good for those people who always wanted to boat but they didn't grow up boating, they didn't know what boat to buy, they didn't know what to do and they're two working parents, very busy family. Or they live in an area where they can't trailer the boat, can't keep the boat – so many HOAs don't allow it – and so this is just an alternative to getting out on the water.
US HARBORS: Do people go back to the same boat or does this give them a chance to test-drive a few different kinds?
LISA: We have 7 different kinds of boats so that's the whole key. So many couples, the husband wants the fishing boat and the wife wants the deck boat and so, no, they use a few different kinds of boats. They can go inshore fishing in a flats boat one day, they can take the deck boat, they can take the wakeboard boat, they can go offshore. It gives them a big variety.
US HARBORS: How does Freedom Boat Club work in terms of training its members?
LISA: They go through our training program one-on-one with a licensed captain, we certify them and then they are responsible for damage.
US HARBORS: What are some of things about the harbors where you work and have locations?
LISA: I was at my beach marine location the other day and I walked by and there were these two guys just sweating bullets in their boat and I had walked by and I was walking back and I looked at them and I thought to myself 'we boaters are a different breed'. We're just a different breed, we just are. And so what I love about where I live in Jacksonville, Florida is that the St. John's River runs through the middle of the city, so we have a fresh water river and then we have the IntraCoastal and then we have the ocean. So it's very different – on the river you have the moss trees and all of that but then you have the Intra Coastal and then you have the ocean so it's really diverse.
What I love about my boating life is that we all know each other, we all help each other. We have this big event that I'm involved with called "Boater Skip Day" – thousands and thousands of boats on a Friday. I've been having some problems with one of our pontoon boats and I was out there and I ran into my friend Jackie, who I haven't seen in a really long time and he runs a business called Full Throttle Fiberglass, he's an amazing fiberglass guy, and I'm like 'Jack! I need you; who can I go to, this is what I need…' and he immediately gave me someone's number, I got the information and it's just so cool.
US HARBORS: Did you move to that area?
LISA: My history is that my parents were competitive water skiers and they skied here in Cypress Gardens in Florida and my mom actually skied with me until she was 6 months pregnant and the doctor said 'You've got to stop'. Then when I was born, six weeks after I was born, my dad actually made a container for me that allowed them to take me and if it flipped out of the boat it would float and they would tie me up underneath the bow of the boat and they would practice and I would go to sleep, the boat would stop, I'd wake up, they'd feed me and back underneath the bow I went. Literally, I've been smelling motor oil since I was 6 months old. I've always been around boating and I dated a guy and he had a boat and we would go skiing all the time and when I was 24, we were breaking up and he said 'I'm going to sell the boat because I got it for us to do things together and I called my dad and said 'Hey Dad, Jim and I are broken up and I think I'm going to buy his boat and he was like 'You'd better think about that, blah, blah, blah' and I called him back two days later and said 'I bought the boat, I thought about it and I'm gonna need you to show up and help me paint the bottom and get it ready and set the dock lines and he said 'Let me give you a list of what you need'.
I grew up in Fort Lauderdale and then I came to Jacksonville – the St Augustine area is just short of Jacksonville and I went to Flagler College there and actually chose Flagler because it was on the coast. The beach is five minutes away, and so then I ended up staying here in this area and just fell in love with it. I bought my first boat when I was 24 and have owned boats ever since. I had a 25 year career at Bell South and we used to work all of North Florida and I used to take my boat with me everywhere; I trailered it everywhere. I brought my boat into my marriage and out of my marriage. They were like 'Lisa: have boat, will travel'.
The merger was happening between Bell South and AT&T and I had grown up on the Bell South side of the business which was very different than the AT&T side and they created a package that if you had age plus years equaled 65, you could leave with your 401 and I thought I'm going and I had no idea what I was going to do. Literally, I took a year off the decide and a friend called me and he said 'Hey, I've got a job for you'.
I live on the river, I had two boats, I'm a big boater, boating was my life and he said 'selling boat club memberships' and he didn't even need to get the full sentence out and I said 'Where do I have to be?!'. That started my career with Freedom in 2009 and in 2011 they came to me and said 'We want you to buy the business'. I really didn't want to at first because I was older, I was going to retire. Anyway, they talked me into it and it was the best thing I ever did. And now we are the fifth largest boat club in the United States of America. My partner and I have won Franchise of the Year, I've won Woman Entrepreneur, he won 40 Under 40, I've won 40 Under 40 – boating industry, I mean it's crazy. And when I called my friends and told them that I got this job they were like 'You're gonna get paid for boating?'
I really love empowering women, I had two sisters so because my dad and mom skied, my parents got divorced when I was seven and remarried. Boating was just a part of who we were…we had to learn to back the boat, drive the trailer, do all that and there was never a time when I thought I can't do this. It was just 'Yea, you can do this'. And so many women would be on my boat and would wish they could do it and I would say 'You can!', it's just a stigma and we have to shift that mindset and I think it's happening.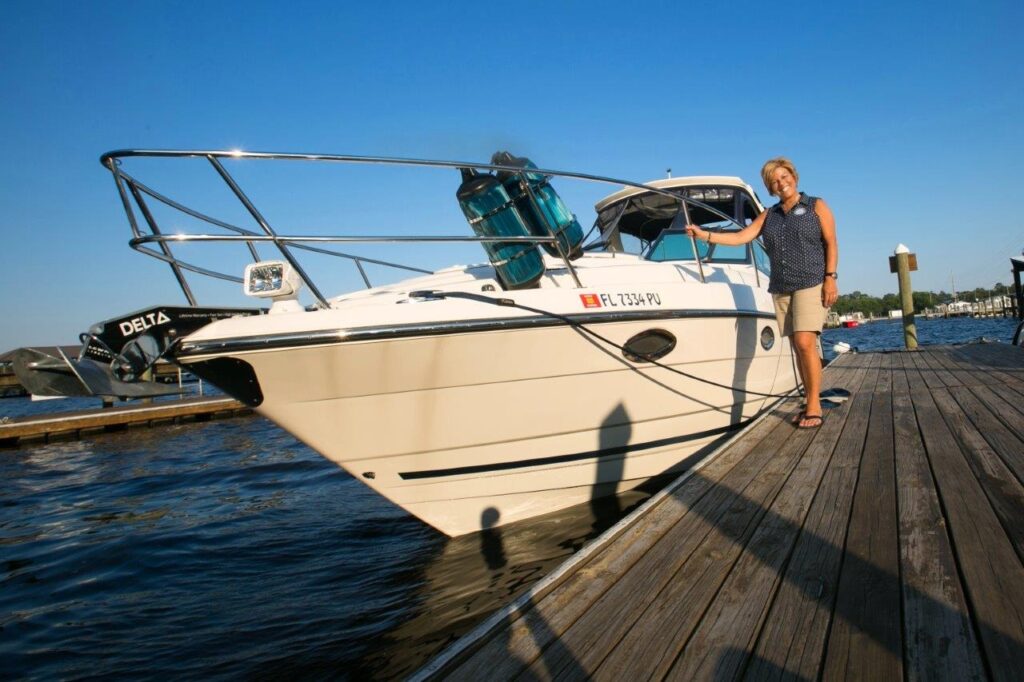 US HARBORS: How did you come to have the nickname is Lisa "The Boatanista"?
LISA: That's a really cool story. At Freedom we do events because we want people to have that boating lifestyle feel so we do raft-ups, we do trips to the Jaguars game, we've done trips to baseball games by boat, we do dock parties, all kinds of stuff. And so one month we had several events and the girl who was at my ad agency goes 'Oh you're like the Boatanista'. And I went 'I AM the Boatanista'. Anyway, I slept on it and the next day I picked up the phone and I called her and I said I think that needs to be my moniker. So she did the logo and explanation. I advertise on a radio station here 1010XL and I do really funny commercials, I have a really good writer, they're really funny about boating and stuff and so Jeff, he does Freedom Fridays and he's a spokesperson for us and he started calling me "The Boatanista" and we started to do the Boatanista commercials and so a friend of mine wrote a jingle and so I started every commercial with "Hey, this is Lisa the Boatanista"… Fast forward a year or so and I'm walking around an expo and I had my Freedom shirt on and I walk by this booth and this guy goes 'Hey, the Freedom Boat Club, I listen to the Boatanista on 1010XL and I really love it'. I went 'What, what? – I'm the Boatanista' and he called all his friends over.
US HARBORS: What kind of events do you throw for boat club members?
LISA: Our Jags stadium, our Jaguar football team is on the river so we do a thing where we take 10 boats and we go there and we "boat-gate". I get Jaxson de Ville, the mascot. Come down and we've had him come in on a boat before. I've had the drum line at the dock. So that's one that we do. We've done a movie at the marina where you watch the marina on the boat. We do a lot of charity boat rides, so we've done "Dreams Come True" and Father's Harbor, Big Brothers Big Sisters, the Daniel Foundation. What we do is we get members to drive and we load up the kids and we take them for a ride and take them on a picnic.
US HARBORS: How has your business been impacted by COVID-19?
LISA: We're kind of just waiting to see. The weird thing is that there's no right answer so you kind of just have to stay neutral so we're just waiting to see but by October I think we'll be good enough to do events again.
US HARBORS: Back to Freedom Boat Club – are people long-term members or does it lead to boat ownership quickly?
LISA: Yes – we have both. Our statistic is that 20% leave and go buy a boat. They get hooked and then they leave. But then we have people who just love the club concept. I have members who have been with me since '09; corporate has members who have been here 15-16 years. And then some people do it for a few years and then realize boating isn't their family thing – but they did it in a less expensive way than buying a boat and they got to try it. I love when people come in my office and say they're thinking about buying a boat but then when I ask how long they've wanted a boat they say 'five years' or 'ten years' and you see they've just thought about it but they've never done it. Now they did it and they found the answer.
US HARBORS: How are you looking to grow Freedom Boat Club over the next few years?
LISA: There are a few more locations we'd like to open up but that's predicated on whether we can get space at the marina. The more locations we open up gives our members more access to different places.