US Harbors provides Marine Weather, Tides, and Harbor-Local Boating and Fishing Information, for over 1,400 harbors in 30 coastal states, including the Great Lakes.
Our Free Online Service–Designed for Boaters, by Boaters–Includes Everything You Need for a Great, and Safe, Time on the Water
On-shore weather conditions & forecasts
Marine weather forecasts
Real-time buoy data with current marine conditions
Weather radar
Wind forecasts
Tide graphs, and printable monthly tide charts (for harbors with tides)
Harbor-local nautical charts & NOAA pilot guide information
Harbor webcams
Harbormaster and Coast Guard contact information
Local boating, fishing, and travel resources & services
National, state, and regional boating, fishing, and weather news
Fishing reports (as available in season)
Local events… AND MORE!
Registered users can 'save' a harbor, making a direct link to their favorite harbor, which can easily added to cell phones for quick access.
We produce 2 annual events and several on-going series related to boating, fishing, and weather.
US Harbors is a proud Weather-Ready Nation Ambassador
(www.harbormasterday.com) – Celebrated annually on October 8th, on this day communities come together to recognize the men and women who work tirelessly to keep our harbors safe, clean, and running smoothly!
People around the county participate every year, in voting for the "Best Harbor" in the country. The winning harbors are the ones that receive the most votes, through the greatest community engagement. The 2020 winner was Depoe Bay, Oregon; the 2019 winner was Padanaram, Massachusetts. Read more…
Learn more about amazing women around our country who live, work, and have built their lives around the water. From marine photographers, to deep-sea explorers, to commercial fishing boat captains, women are pushing the frontiers on our coasts and in our oceans.
Our Mission: To promote healthy, sustainable, and resilient coastal communities, both economically and environmentally.
We are committed to preserving the uniqueness of people and places, and value personal connections. Our ever-expanding coastal network includes like-minded businesses and organizations — small businesses, town and harbor management, chambers of commerce, and other coastal organizations – dedicated to the economic and environmental sustainability of our coasts.
We offer a Business Membership program to provide coastal businesses with digital marketing opportunities and other services to help them succeed.
The company, a division of Maine Boats, Homes, & Harbors Inc., has been in operation since 2009. It provides data and services for people and businesses who live and work on the coast.
FUN FACTS
US Harbors is located in Rockland, ME. Our offices look out on the harbor as it does its annual transition through icy winters to balmy summers. We all love Rockland's Lobster Trap Christmas Tree!
OUR TEAM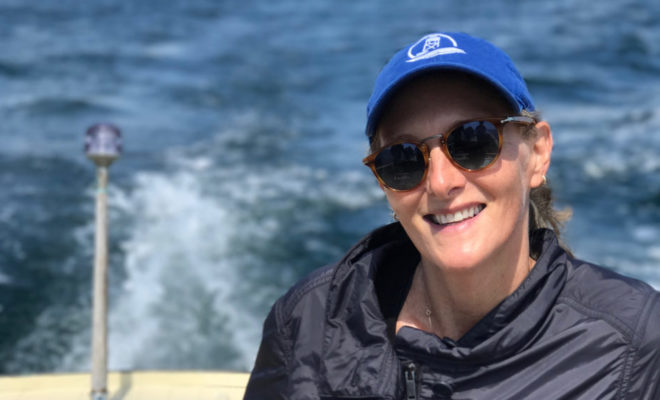 Anastasia Fischer, President and Editor, was raised by a boat-building father and grew up racing lasers. Prior to coming to US Harbors, she spent 25 years in management consulting in the field of customer experience, working with companies of all sizes — startups to Fortune 100s — on strategic projects. Anastasia is committed to her local community, involved with many committees, and believes in the power of working together. She has lived on the coast of Maine for the past 19 years, and before that in coastal California.
John Hanson, Founder and Publisher, The exploration and preservation of our marine heritage is of great importance to John K. Hanson, who has been involved with boats and history all his life. In 1987, John founded the award-winning Maine Boats, Homes & Harbors magazine in Camden, Maine, where it was published for 22 years before moving to Rockland in the fall of 2009. That same year the company launched US Harbors. John has served on the boards of the Maine Marine Trade Association and the Penobscot Marine Museum. John can be found on the water, in a boat, whenever possible!