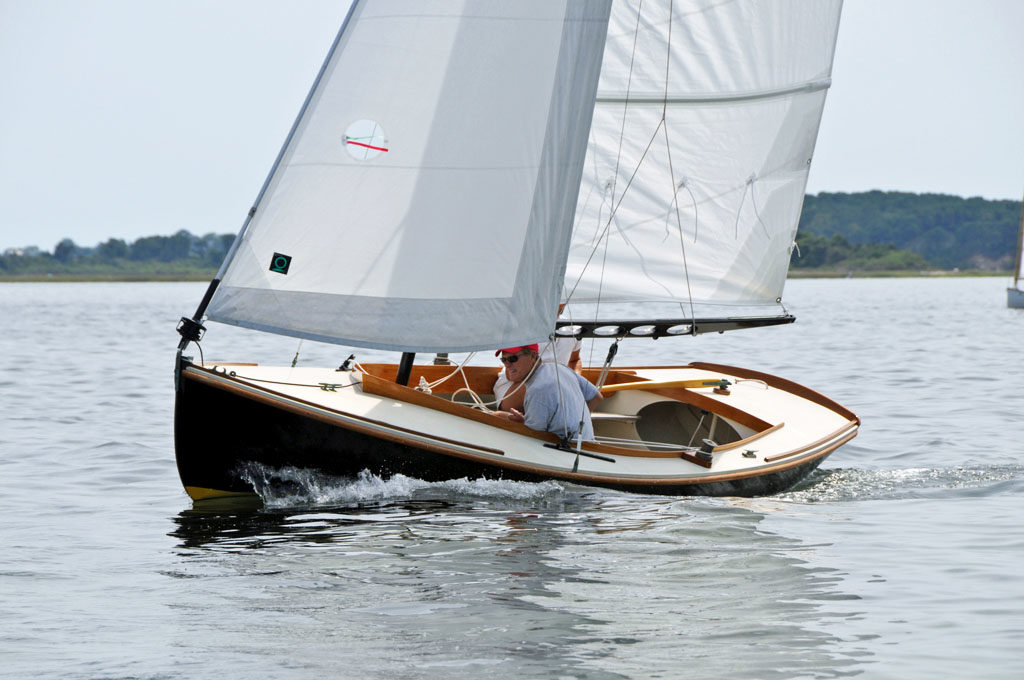 Arey's Pond Cats are descended from traditional wooden catboats originally launched on Narragansett Bay two hundred years ago. True natives of Cape Cod, catboats have been sailed, worked hard, and well loved by fishermen and recreational sailors alike ever since the first one headed up into the wind and someone exclaimed, "She comes about quick as a cat!"
In 1971, Arey's Pond Boat Yard developed a mold similar in shape to the hull of the classic wooden catboat, but with alterations to the sheer, bow, stem, and gaff rig. In addition, the yard created new layouts for the deck and cockpit. The result was a catboat whose low center of effort helps keep it flat on the water while making it swift to respond and easy to handle. It also combines the unbeatable beauty of a varnished wooden mast, boom, and trim with the minimal care requirements of a fiberglass hull. If you admire a traditional look but would rather not undertake the maintenance of a wooden hull, the Arey's Pond Cat is an excellent alternative.
As of the spring of 2017, we are excited to introduce to the public a custom canvas shop and a full service sail loft. Our new shop allows us to provide boat owners with cushions, dodgers, enclosures, bimini tops, boat covers and sail repair, while also serving homeowners with indoor and outdoor furniture upholstery, awnings and furniture covers."
We take pride in every one of our boats. As a small, custom facility, we build only about twelve boats a year, meaning we can give yours our personal attention from start to finish. It would be our pleasure to build an Arey's Pond Catboat for you.
Photos of Arey's Pond Boat Yard