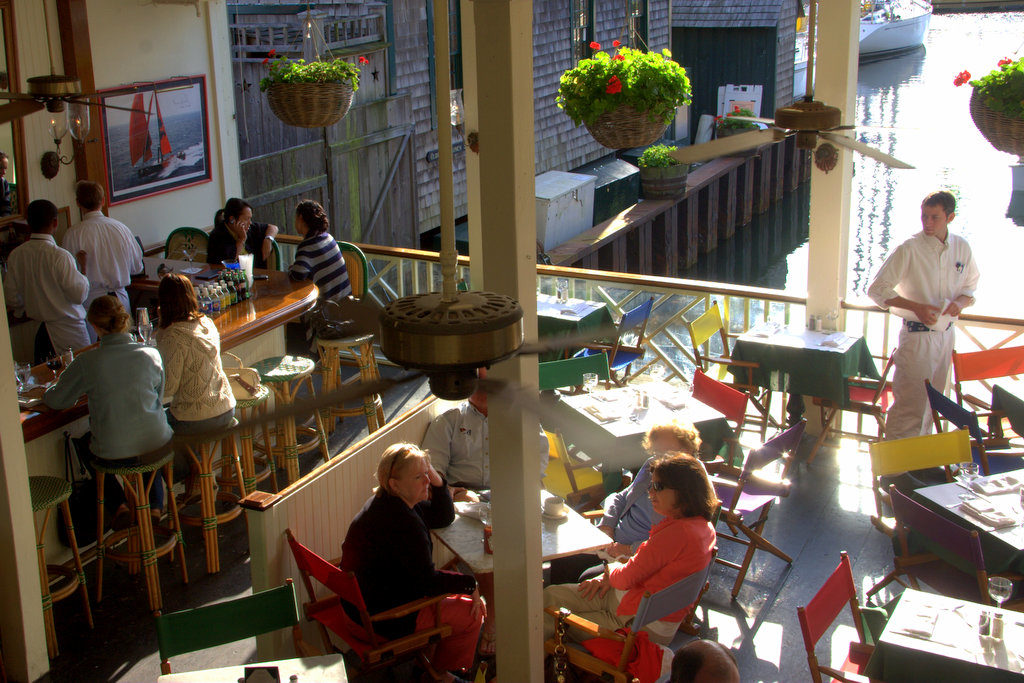 The legendary Clarke Cooke House is the quintessential Newport experience. With four levels of dining and drinking options — The Candy Store at Harbor level, upstairs at the exclusive Sky Bar, the best people-watching in Newport at the Midway Bar, or dance into the evening downstairs in the Boom Boom Room — the Clarke Cooke House offers something to suit every traveler's taste. Check our website for seasonal hours.
The Candy Store
The wharf level is the home of the legendary Candy Store. A haunt of Cup Contenders Ted Turner and Dennis Conner, The Candy Store has long been ground zero for generations of the Newport sailing crowd. The room is wide open to the harbor and Narragansett Bay. The famous Candy Store Bar runs the length of the room, and is dominated by an over-scale antique "pond yacht" behind the bar.
The Bistro
The Bistro, with its central Bistro Bar, is located on the main floor of the original house. There is comfortable wicker seating in front of a vast open fireplace. The exposed original post and beam construction lend an 18th century feel. The owner's highly entertaining personal collection of America's Cup prints and other sailing memorabilia covers the walls and draws you in to the lively yachting scene and the events that have made this wharf such a player in the Newport sailing saga.
The SkyBar and 12 Metre Yacht Club Room
The SkyBar is the favored spot for an intimate cocktail before dining on the Porch. Hidden away on the top floor, it's small scale attracts those "in the know" as well as those fortunate enough to discover its charm perhaps quite by accident.
Porch Dining
Suspended serenely above the harbor, the setting is romantic, the service attentive, the food exquisite. This is Newport's most sophisticated environment. Reservations are usually necessary. Gentlemen, please, collared shirts, slacks, proper shoes
The Midway Bar
The Midway Bar just below The Porch is open to the harbor and to Bannister's Wharf. This is the best place for people-watching in the city of Newport!
Photos of Clarke Cooke House