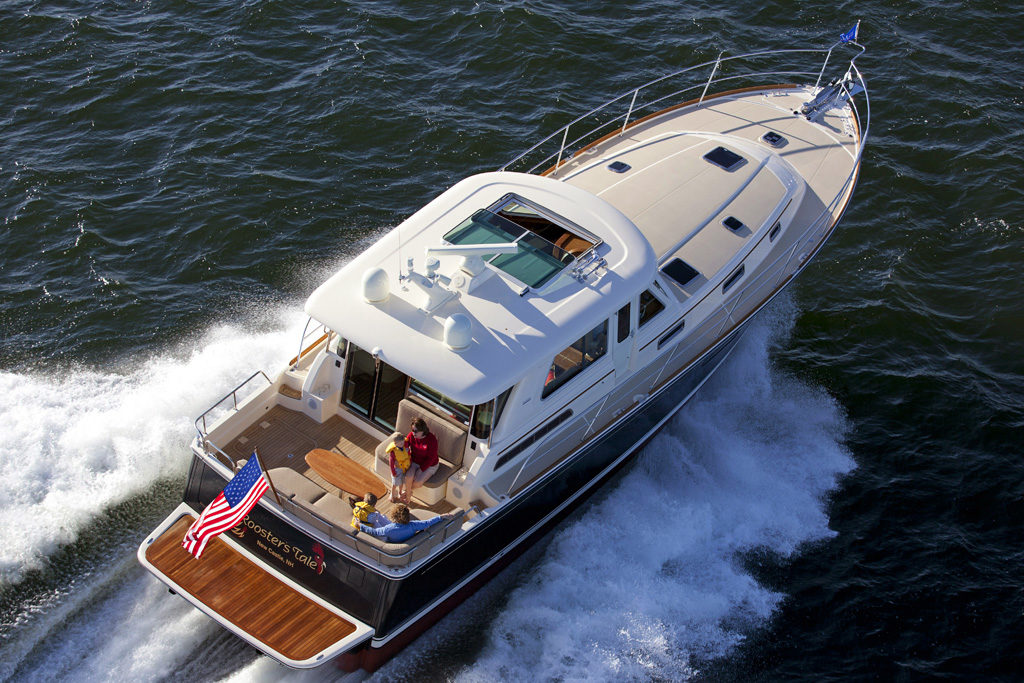 Sabre Yachts, located in Raymond, Maine, builds semi-custom motor yachts in lengths from 38 to 54 feet. Two basic styles are available: The Downeast-style Salon Express and the Flybridge sedan. The Salon Express is for those who enjoy their time on the water but prefer the comfort of a quiet and luxurious interior from which to enjoy the scene as it passes by. The Flybridge style are for those who enjoy the wind-in-the-hair experience of an exterior steering station.
The Sabre 38 is a single-cabin design primarily focused on day boating and weekend cruising. Her interior opens completely from forward bulkhead to the cockpit to create a large open and airy living environment. Comfort and luxury for the owner and their guests to enjoy.
The 42, 48 and 54 Salon Express are meant for the serious cruiser whose plans include longer trips and weeks at a time aboard. Pod drives ensure sector-leading fuel economy and quietness of operation. It is not uncommon for owners of these designs to travel as much as 150 to 200 miles per day as they seek out new destinations and ports of call. The comfort of these interiors is second to none, with finely finished cherry interiors and luxurious seating surfaces.
The Sabre 54 Salon Express made her debut in February 2014. This new queen of the Sabre fleet offers the very latest in propulsion systems as well as electrical and mechanical devices.