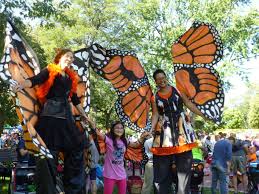 12th Annual Monarch Festival – Festival de la Monarca
The next Minneapolis Monarch Festival will occur on Saturday, September 12, 2020, from 10 am to 4 pm.  The Festival celebrates the monarch butterfly amazing 2,300 mile migration from Minnesota to Mexico with music, food, dance, hands-on art, native plant sales and plenty of opportunities to get up close with monarch butterflies, learn about their habitats, and what you can do to make a difference.
The Festival will be held just east of the Lake Nokomis Community Center in the area bounded by E. Minnehaha Parkway, Woodlawn Boulevard, and E. Nokomis Parkway.