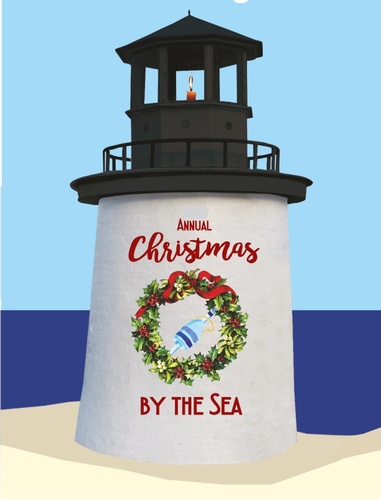 Welcoming the holiday season, this event brings, tree lightings, concerts, craft shows, children's activities, a parade, bonfire, fireworks, Santa and so much more. Events occur throughout town.
SCHEDULE OF EVENTS
Friday, December 10th
4-8pm  ~ HOLIDAY TAROT BY THE SEA ~ Join Sage Clarke of Inner Knowing Wellness for a Tarot Reading for guidance and clarity. $40 for 20 min. Call or text 603-205-9386 to reserve a spot. Space is limited.
TaleSpinStudio, Perkins Cove
5-6pm ~ S'MORES & CAROLING ~ Wear your ugliest sweater or holiday attire to Perkins Cove Rotary Park for smores, caroling and a surprise visit from Mr. Grinch as we light the tree in Rotary Park. Gather around the fire for some toasty smores as you listen to the Wells Acapella Group singing holiday favorites for the young and the young at heart. Be on the lookout for the mean one himself, Mr. Grinch! There will be prizes for the ugliest sweater and most festive outfit, so come decked out! Sponsored by Ogunquit Rotary along with Ogunquit Parks and Recreation
6pm ~ TREE LIGHTING IN PERKINS COVE~ sponsored by the Ogunquit Parks & Recreation Committee and The Ogunquit Rotary. Rotary Park, Perkins Cove
7-8pm ~ CONCERT AT THE OGUNQUIT BAPTIST CHURCH ~ Wells High School Select A Cappella group performs. Baptist Church, 157 Shore Rd.
8:00pm ~ COMMUNITY HOLIDAY PARTY AT MAINESTREET ~ Join the community to celebrate the holidays enjoy apps, cash bar and good friends! Karaoke follows right after the party. MaineStreet, 195 Main St.
8:15pm ~ TOWN TREE LIGHTING IN VETERANS PARK ~ Join us in caroling as we light the town tree. Veterans Park
Saturday, December 11th
9am-12pm  ~ GOODIE BAG GIVEAWAY AT BANGOR SAVINGS ~ Stop by Bangor Savings at 196 Main St. to pick up goodie bags filled with cookies, candy, cocoa, coupons and more. Bangor Savings Bank, 196 Main St.
9-11am ~ VISIT WITH SANTA AT THE FIRE STATION ~ Come meet Santa and have your photo taken! Fire station on School St. (upstairs)
9:30am-2pm ~ ARTISAN CRAFT FAIR ~ (formerly Basement Bazaar) Join us at the Dunaway Center at for the CBTS Artisan Craft Fair. This event was previously located in the basement but this year we have brought it upstairs and added more vendors. Can't figure out what to get that certain somebody? Find a little of everything and something for everyone at the fair. Dunaway Center, 23 School St. MASKS REQUIRED IN THE DUNAWAY CENTER
10am-3pm ~ ANNUAL ARTS & CRAFT SHOW AT THE FIRESTATION ~ Head over to the fire station for a craft show. Proceeds benefit Ogunquit Fire/Rescue. Fire station on School St.
DRIVE-THRU SANTA ADVENTURES ~ First stop: Bangor Savings Bank—12:30 – 2:30pm
Join us for this magical event as we spread Christmas cheer to all our friends! You and your family will remain safely in your vehicle and "drive thru" to be greeted by Santa and his elves. Santa has some special giveaways for every child that comes to visit. We enncourage you to tune into some holiday tunes to get you in the spirit. Pack the hot chocolate and have some fun!
Second stop: Letters to Santa via Perkins Cove Sail Mail Express – 12:30 – 3pm
After you've been to visit Santa at the drive thru, head over to Perkins Cove and put your letters to Santa in the special mail box located in Rotary Park. You will be greeted with some sweet treats courtesy of Perkins Cove Candies. The Perkins Cove Sail Mail Express will make sure your letters get delivered to the big guy before Christmas.
1-2pm ~ LOBSTER LEARNING LAB ~ Join Amy at TaleSpinStudio in Perkins Cove and learn all you can about the anatomy & biology of lobsters and fishing fun. Each participant leaves with a live lobster to take home. Surprise visit from Captain Eric Brazer & Captain Chris Eager. TaleSpinStudio, Perkins Cove
1-5pm ~ CHRISTMAS OPEN HOUSE PARTY AT LADY MARY INN ~ Come see the Manor in its full holiday best. Rooms are decorated with ornaments, trees and lights. Visitors are served warm cider and festive snacks. Lady Mary Inn at Hurd Manor 2 Elm St., North Berwick
2-3pm ~ HOLIDAY STORIES AT THE LIBRARY ~ Join us during Ogunquit Christmas by the Sea. Guest reader, Julie Woods, will read a few books and lead a few songs. Please wear a mask. Ogunquit Memorial Library
3-4pm ~ OGUNQUIT CHRISTMAS PARADE ~ Parade will go from the entrance of Perkins Cove up Shore Rd. towards the center of town, down Beach St. to the intersection of Beach St. and River Rd. Weather permitting. Presented by the Town of Ogunquit Begins at Perkins Cove and ends at River Rd.
4pm ~ OGUNQUIT OCEAN RESCUE POLAR PLUNGE AT MAIN BEACH ~ Come support Toys for Tots and cheer on our Ogunquit Ocean Rescue Service as they brave the wintry elements. Please bring unwrapped toys, donations, and plenty of good cheer! Main Beach
4:30pm ~ BONFIRE ON THE BEACH ~ Warm up on the beach while you wait for the fireworks display. Main Beach
5:00pm ~ FIREWORKS DISPLAY! ~ A magnificent fireworks display will be shot from the Main Beach parking lot. Fireworks courtesy of The Front Porch Piano Bar & Restaurant. Main Beach
7-8pm ~ CONCERT ~ at the Ogunquit Baptist Church. Barbershop back by popular demand. Not just a quartet, but a choir! Seacoast Men of Harmony perform. Ogunquit Baptist Church, 157 Shore Rd.
Sunday, December 12th
9am-3pm ~ MARKET AT THE MEETINGHOUSE ~ Join us for a holiday market in the historic Meetinghouse full of craft vendors, gifts, food, and more. Hot cocoa will be served. Stay warm and watch the Wells Holiday Parade from the steps of the historic First Church Meetinghouse! Historical Society of Wells and Ogunquit 938 Post Road Wells,
2pm ~ WELLS CHRISTMAS PARADE ~ Begins at Wells Plaza and ends at Wells Junior High
ONGOING EVENTS
MAKE A SENIOR SMILE!
December 6th—14th
CARDMAKING CRAFT FOR KIDS ~ Ogunquit Chamber has teamed up with Sentry Hill York Harbor Senior Living to help put a smile on their residents' faces. How you can participate: Bring the kids to the Ogunquit Welcome Center located at 36 Main St. (next to the Playhouse). Pick up a card making kit. Each kit includes everything needed to make one card per resident. Kit includes: blank card, crayons, stickers and a stamped envelope addressed to the resident. Just decorate, write your message and pop it in the mail.
December 3rd-12th
REINDEER ROUND-UP SCAVENGER HUNT ~ Santa needs your help! Santa can't find his reindeer. They were last spotted at various locations throughout Ogunquit. Help Santa round up all his reindeer before Christmas Eve and be entered to win a $50 Gift of Ogunquit gift certificate. Go to Ogunquit.org/Christmas-by-the-sea for more details and to download the game sheet.
SEASIDE SCAVENGER HUNT ~ Ogunquit is known for its beautifully decorated shops, homes and streets during the holiday season. Some would call it magical. Take a ride around town and find the items on the list. Find 15 out of 20 and be entered to win a $50 Gift of Ogunquit gift certificate. Go to Ogunquit.org/Christmas-by-the-sea for more details and to download the game sheet.
SANTA SIGHTINGS ~ Rumor has it that Santa will be in Ogunquit for Christmas by the Sea weekend. Keep your eyes open for Santa sightings around town! Ho-ho-ho!
LIVE MUSIC & ENTERTAINMENT
December 10  ~  8pm  ~ Bob Marley Comedy at Jonathan's Ogunquit
December 11 & 12  ~ 1pm ~  A Christmas Carol: Dinner with Dickens $25pp plus food & beverage (visit to clayhillfarm.com to reserve a spot).
December 11 ~ 5:30 & 8pm ~ Bob Marley Comedy at Jonathan's Ogunquit
**Schedule is subject to change without notice. Please contact the venue for more information.**
Check back frequently for more details.