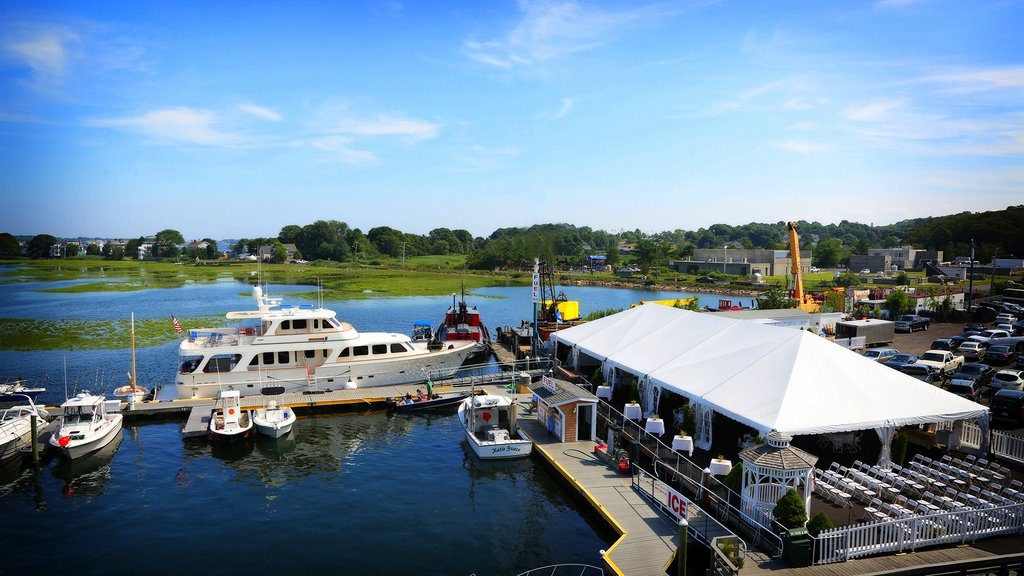 Destination found ... Stay, Eat, Drink, Chill, and Play. Cape Ann's Marina Resort's protected, calm basin just inside Gloucester Harbor is a great place to visit for lunch, the night, or the season. Guests are welcome to use the indoor pool, visit Mile Marker One Restaurant and bars, stay overnight in our waterfront hotel rooms, celebrate a wedding or function in our Waterfront Pavilion Tent, fuel up, pump-out, or let our crew help you with any marine services.
The Fuel Dock and Dock & Dine can be reached on VHF 10 for assistance as you approach. Dock & Dine is free while you are dining with us at Mile Marker One, first come first serve.
We are a premier destination for boaters traveling from the north or south. While we are home to the TV series WICKED TUNA, boats and crews, we are also home for 265 vessels and visiting vessels alike. We are close to popular fishing spots like Stellwagen Bank and Jeffrey's, to name a few, as well as near great areas for whale watching too. Maybe it is beaches and cruising you are interested in? Wingersheek Beach and Cranes Beach are very popular for rafting up, using your SUP or dingy to explore our salt marshes and dunes, or sitting back for another sunset.
Our Mile Marker One Restaurant & Bar is a popular boating destination as well. Serving breakfast, lunch, dinner, cocktails, raw bar, and hosting live music on our Bridge deck, this is the place to sip our house favorite "Pain Killer".
Cape Ann Marine Sales & Service is on-site to help with all your boating needs, hosting a stocked marine store and outboard dealership for Yamaha and Suzuki motors. Check out our website for more storage, boat yard, and marine services we offer.
Photos of Cape Ann's Marina Resort