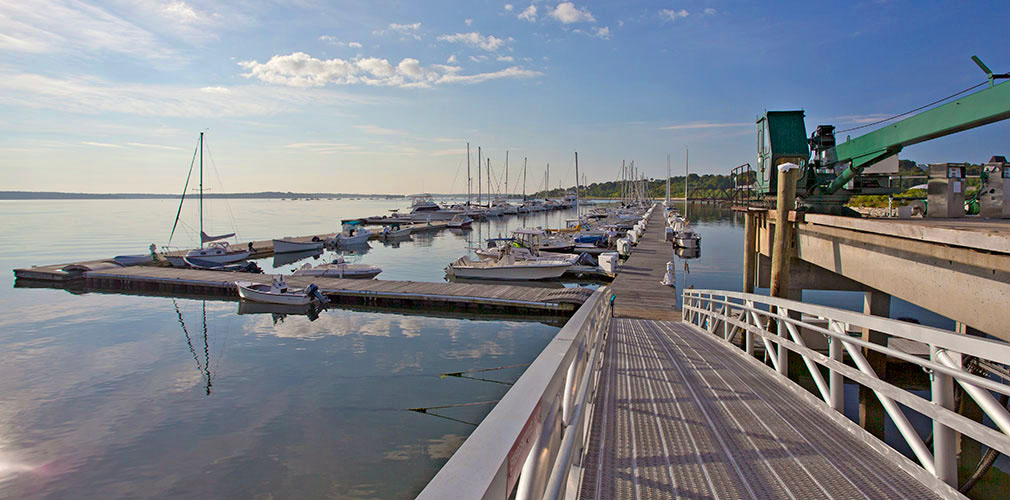 Maine Yacht Center (MYC) is a full-service marina and boatyard facility in Portland. The marina offers water, power, Internet, cable TV, fuel, and pump out. MYC's guest facilities provide for all the needs of the visiting yachtsman. Inside you'll find clean new bathrooms and showers, laundry facilities, a comfortable lounge, and a store with basic supplies, snacks, and refreshments.
MYC is well protected from prevailing summer breezes. Our massive breakwater provides excellent protection from the east and from any ocean swells or wind-generated waves. Our 80 slips and 990-foot-long dock can accommodate boats of virtually any size.
We offer haulout up to 45 tons, and a full range of storage and services in our heated 35,000 sq. ft. building. Our entry doors are 30 feet tall which can accommodate large fly bridge motor yachts and sportfishing boats without having to take down arches, towers or antenna masts. Heated indoor storage helps to preserve your boat's finishes, protects all systems and electronics from freezing and condensation, and makes it possible to have work done at any point during the winter. MYC also offers outside storage and shrink wrap covering.
Our state-of-the-art paint shed is 67 feet long and 21 feet wide. The building is both environmentally- and climate-controlled, providing the best possible conditions for creating superb Awlgrip and varnish jobs. MYC takes the repair and maintenance of your boat very seriously because it is directly related not only to your safety, but also to your boating enjoyment. In servicing your boat, we strive for just one goal: work that is flawless, on schedule, and on budget.
Photos of Maine Yacht Center