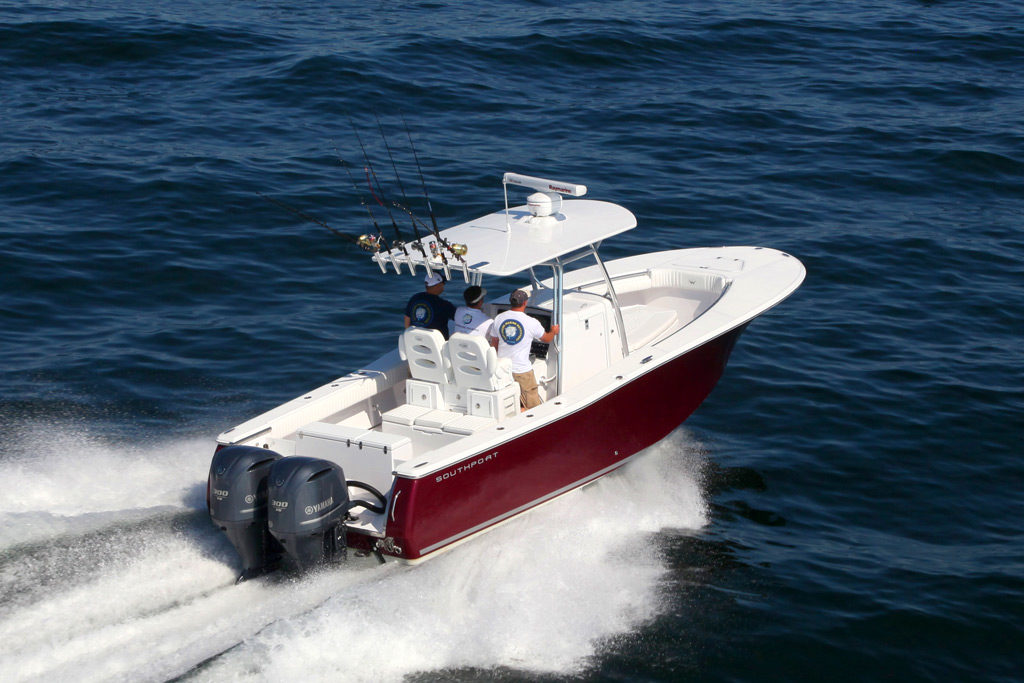 In 2003, a team of experienced boat builders, passionate fishermen and offshore racing enthusiasts joined forces with the legendary C. Raymond Hunt Associates to develop a unique and revolutionary boat design focused on maximizing the power and performance available from modern outboards. The first Southport was launched.
Southport's exclusive Hunt4 Design® hull was developed to utilize the weight of modern twin power outboards to provide a soft, dry ride, stable platform, and easy handling. The unique design of the hull allows the boat to jump up on plane without bow rise, delivers a surprisingly agile ride, and turns on a dime. Ask a Southport owner about the ride of their boat and you will hear repeated praise about its balance, responsiveness and superb handling – often summarized as "Simply Amazing".
In every Southport you'll find electrical systems designed in a yacht-like manner, scuppers that evacuate green water like a custom sportfish, rugged offshore T-tops and subtle comfort throughout the interior, all this with lines that reflect some of the most beautiful products afloat.
In 2011, Southport Boats became part of the Maritime Marine Group LLC located in Augusta, Maine, where a team of experienced Maine boat builders ensures that the construction of every boat matches the outstanding performance of the hull design. Not only are Southport boats constructed with the highest quality gel coats, adhesives and composite materials, but now they are being built using modern vacuum infusion technology which provides a stronger higher quality product that makes a great boat even better.
Photos of Southport Boats