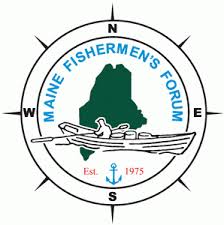 The Maine Fishermen's Forum hosts fishermen, gear suppliers, scientists, government and other stakeholders to collaborate on all things fishing: markets, resource status, regulations, the latest in technology, the environment and more.  If it's of interest to the fishing industry, chances are you'll find it here.
VISION of the Maine Fishermen's Forum
We envision a world where:
There is a healthy fishing industry engaged in stewardship and self-regulation, utilizing resources that are maintained at sustainable levels with continuous opportunity for independent fishermen to have responsible access to the commercial waterfront, the resources, and fishing grounds;
Management decisions are made at as local a level as appropriate and are based upon a broad systems approach;
The public and the industry are continuously informed in a constructive manner about the resources, the industry and their issues.
GOALS of the Maine Fishermen's Forum
An educated public and industry
Interaction and sharing among industry, science, and managers
An industry, the segments of which actively listen to one another and understand one another and each other's particular issues. (This would include managers and the environmental community.)
Enhanced networks and a sense of community.
HISTORY of the Maine Fishermen's Forum
The first Forum took place in 1976, although the idea had actually hatched some years before in discussions between Bailey Island fisherman Bob Green and University of Maine Economist Jim Wilson.  It was funded by the University of Maine Sea Grant Program as part of a project which was being worked on by Jim Wilson and Robin Alden, (formerly managing editor of Commercial Fisheries News and former Commissioner, Maine Department of Marine Resources).  The event was a success and the Sea Grant Program continued to run it until 1982 when they turned it over to industry.  In 1984 the Maine Fishermen's Forum was incorporated as a nonprofit organization dedicated to perpetuating the annual Forum as an educational event for Maine fishing communities.
The original organizations currently represented on the Board of Directors are Associated Fisheries of Maine, Commercial Fisheries News, Maine Aquaculture Association, Maine Department of Marine Resources, Maine Lobstermen's Association, Maine Sea Grant Program.
The At Large organizations currently represented on the Board of Directors are Downeast Lobstermen's Association, O'Hara Corporation, Hamilton Marine, Downeast Dayboat, Island Fishermen Wives Association, Sustainable Harvest Sector, F/V Wild Irish Rose, F/V Bug Catcha, Coastal Enterprises, Inc. and Portland Fish Exchange.
Maine Fishermen's Wives Association and Maine Fishermen's Cooperative Association are no longer on the Board, but both were founding members of the Maine Fishermen's Forum.