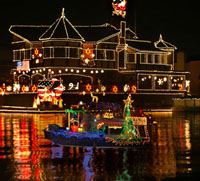 Produced by St. Francis Yacht Club, stfyc.com
Parade travels between Chrissy Field and Marina Green in San Francisco. Free viewing.
All StFYC members are welcome to enter their boat in the Decorated Boat Parade. The Club will provide a complimentary tray of hors d'oeuvres for your crew and judges will be watching from the Race Deck and awarding prizes for 1st, 2nd and 3rd in both Powerboat & Sailboat categories, plus the Settlemier Grand Prize and Jury's Choice Award.