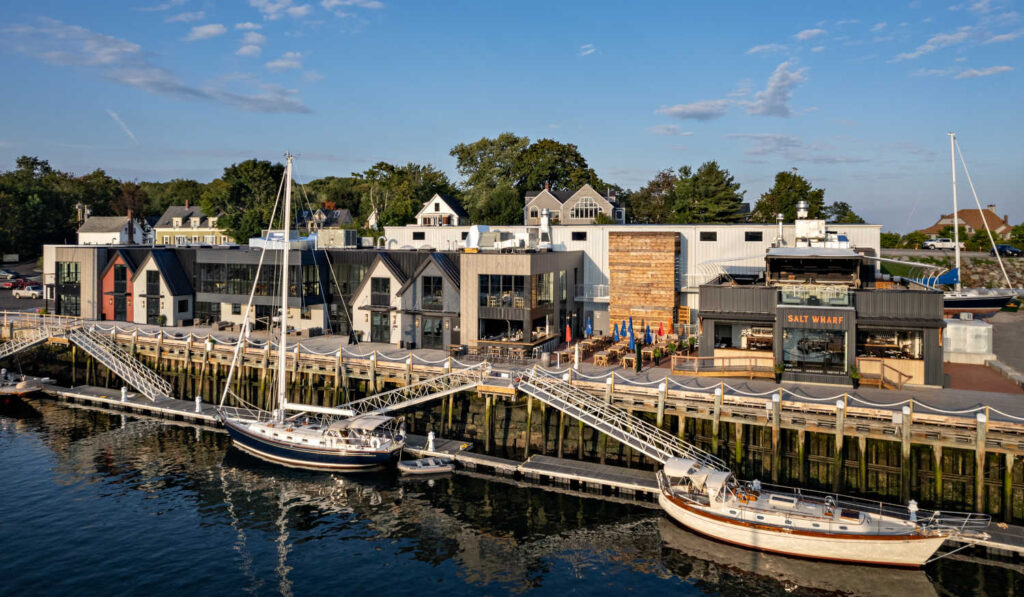 Return to Camden and visit Lyman-Morse! We have 47 moorings, 37 slips and harbor floats and 846ft of dockage in one of the prettiest, safest and most fun harbor in Maine. With your mooring or dock fee comes launch service, Wifi, access to our courtesy car, and showers. Best part is we are located on beautiful Camden harbor within walking distance of shops, restaurants, and the Camden Hills State Park. Other dockside services include ice, gas, diesel, shore power, and pump-out. We maintain a full inventory of parts and provide worldwide delivery.
This year, our shoreside landscape will look much different thanks to our newly reconstructed Lyman-Morse marina complex. We are very excited for you to experience these new facilities and enjoy the variety of activities available in our area guaranteed to suit all tastes! In addition to spectacular boating, you will find great hiking, biking, terrific restaurants, as well as galleries and museums.
If required, Lyman-Morse is also Maine's premier full-service boatyard. We offer a 110-ton Travelift, a rigging crane, and heated indoor and outdoor storage facilities.
Lyman-Morse's talented crew will deliver the best of traditional craftsmanship coupled with a thorough command of tomorrow's technology. Lyman-Morse is renowned for the expert installation, service, and maintenance of diesel and gas engines and Gensets, and for electrical, refrigeration, and hydraulic systems. Here you will enjoy unmatched excellence in every aspect of yacht care and repair. Our fabricators are wizards at designing and crafting marine hardware. Whether your vessel requires system components, a new pulpit, or custom pieces, you will be impressed by our team's exceptional skill.
Lyman-Morse  is a full-service yacht yard providing the finest repairs, refits, and storage for your vessel. You can count on our longstanding reputation of excellence.
*Crew Quarters: * Looking to get off the water for a few nights while staying with us in Camden? Our new Crew Quarters at Lyman-Morse offers boutique ocean view accommodations along Camden Harbor."