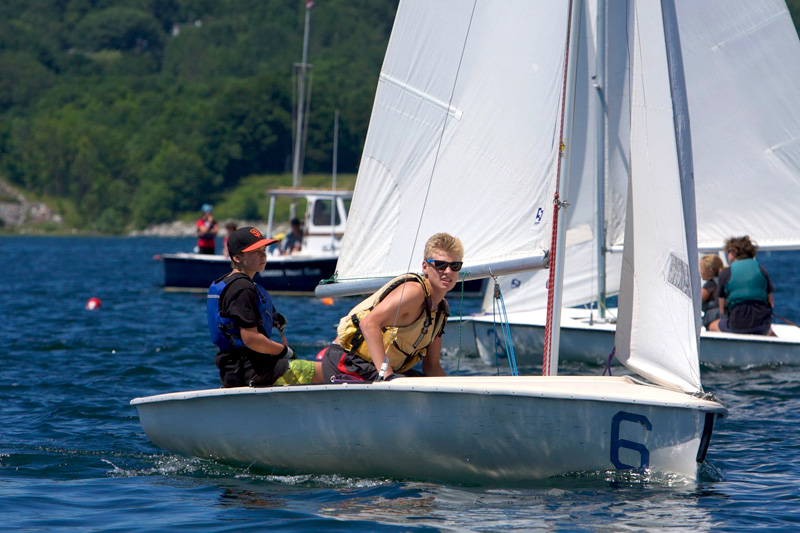 Perhaps nothing better reminds us why we love the coast than watching kids play at the shore – and race sailboats. Whether hiking out on a new 420 or nervously holding the mainsheet on a borrowed fiberglass-and-plywood pram, the smiles on their faces reassure us that the stresses of the world are still a long ways off for them and, for a few hours at least, for us, too.
Those smiles were in healthy supply July 31 when the youthful competitors taking part in the eighth annual Red Jacket Regatta took to Rockland Harbor in a couple dozen Optimists and 420s. Nine yacht clubs and more than fifty youth sailors from as far as Boothbay Harbor and Castine converged on a pair of floats moored off the Rockland Breakwater for the event, operated by the Rockland Community Sailing Program at the Apprenticeshop.
For some competitors, this was their first regatta and a bit of chaos (and a couple of restarts) at the start-line did little to dampen the thrill of holding the tiller in a real boat race. For older kids, discovering just enough room around the windward mark for a 420 to pass and sliding by a rival yacht club's team put the best video games and iTunes to shame. Add in sunny skies and a five-knot southwesterly that kept the boats moving but without terrifying the youngest sailors, and the day was one for the books.
Team awards were handed out for two groups of Optimist and 420 crews, but without doubt two of the most memorable awards of the day went to twelve-year-old Abby Chamberlin, of Camden, and William Bradley, 9, of Stockton. Chamberlin received the sportsmanship award for continuing to race her Opti even after it swamped and filled to the gunwales, while Bradley took home the coaches' award for never letting a few slow starts keep him from rounding all the marks.
The participating yacht clubs were:
» Camden Area Youth Seamanship Program
» Rockland Community Sailing
» Rockport Boat Club
» Northport Boat Club
» Stockton Harbor Sailing Center
» Boothbay Harbor Yacht Club
» Castine Yacht Club
» North Haven Casino
» St. George Community Sailing
For more information about the Red Jacket Regatta, click here.
Does your yacht club have a regatta or other event that you want to tell other boaters about? Tell our editors about it by writing to [email protected]. (Don't forget to send some pictures!)