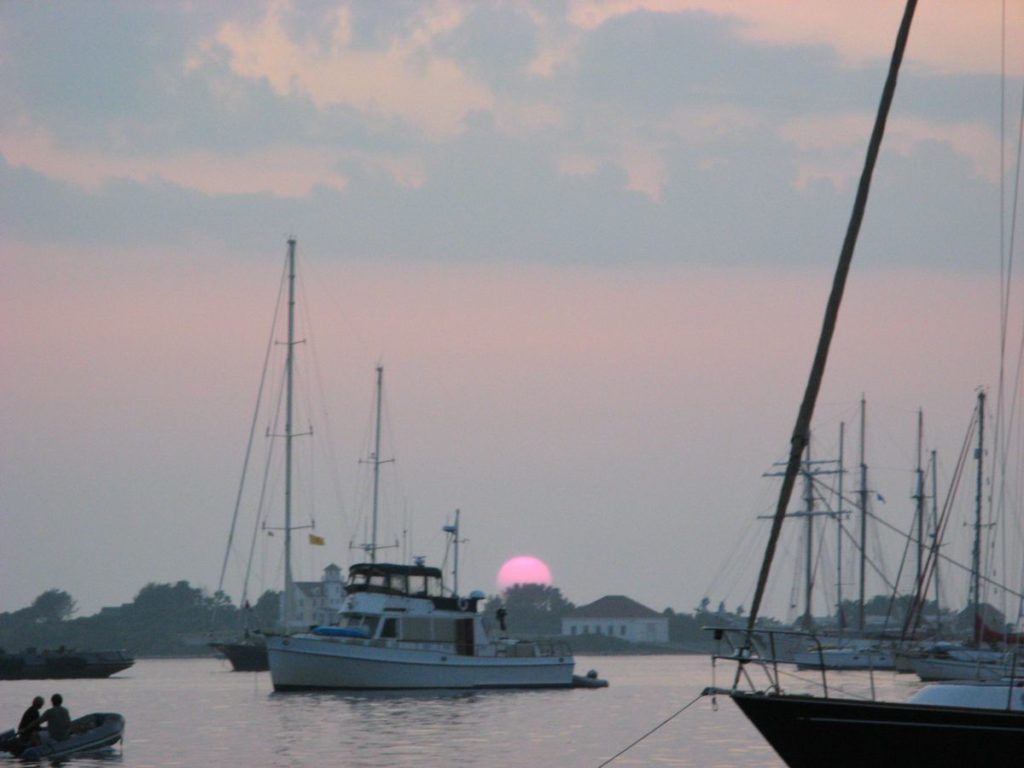 Block Island is far from Maine, in many ways, especially in the high season. Sailing from Cuttyhunk to Block Island (about 30 NM), on a hot August day, we took advantage of a lack of wind to troll for Bluefish. It wasn't long before my son and I each had a blue on, at the same time (fishing is good off Rhode Island). We let his go, but mine would be grilled for dinner shortly after, inside the Great Salt Pond on Block Island. That's what we call fresh fish!
The inlet into the Great Salt Pond is a bit narrow, and despite a reputation for shoaling, we found plenty of water on our last visit (each season this local shoaling should be reviewed for your draft before entering). Once inside, we were all amazed at the number of boats, both local and visiting, on the moorings.
All the town-maintained moorings appeared to be taken, so we found a place to anchor. A while later, the harbormaster told us our boat was too close to the moorings (allow 50 feet to the nearest mooring), so we found another spot (the perimeter of the anchorage area is now marked by buoys).
We were happy with our new spot. It was quite shoal and perfect for our centerboard boat. The anchorage was crowded with boats, but the weather forecast was for benign conditions for our stay. I've been told that when the wind pipes up inside the "pond", it can be pretty chaotic inside this harbor. I believe it! In the event of some wind, I'd feel much safer on a mooring in the Great Salt Pond (arrive early for the best chance of finding a mooring in season).
But what fun inside! We enjoy the natural and manmade range of options available in a just a couple of hundred miles on our coast of New England. It's a party atmosphere in the Great Salt Pond, and Block Island is the host.
Swimming off the boat was the order of the day in the typical sweltering August heat in these waters (the town's free pumpout boat cruises by all day helping to keep the waters clean). Our cockpit bimini was a must. Just off our stern was a public dinghy landing and we could hear the crashing surf of public beaches on the ocean side. We had a good row to town (this is a big harbor), so we rigged the sailing dinghy and used that to tour the large harbor.
Block Island on shore is laid back and very welcoming. With one third of the island preserved in conservation lands, I give Block the highest ratings for public beaches and access. That's a good thing because with a year round resident population of 800 that swells to 12,000 with the summer influx, there are a lot of people on the island, in season. Clay Head Beach, on the island's northeast tip, is just one of the strands worth exploring.
We rented bikes, which was an affordable way to get a feel for some of this big island. There were reasonably priced restaurants onshore (a real plus for families), and everything we needed nearby.
But the truth is, it was so bloody hot walking or biking on our last visit, being on land lost it's luster in short order. Knowing we had our floating getaway out in the harbor breeze, we spent a good deal of the days at Block on the water.
And the island actually comes to your boat! Aldos Bakery's delivery boat patrols the Great Salt Pond at sunrise, its captain belting out a memorable, melodic solo: "Andiamo, Andiamooooo!" (Translated: Let's go, let's gooooo!
We'll return and further explore the island in the future, as Block Island feels like it's there for everyone to enjoy.