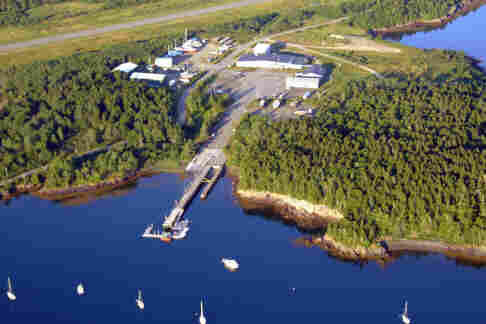 The fate of the Boat School, the seventeen-acre piece of land and buildings off Deep Cove Road in Eastport, has finally been resolved after several years of uncertainty. The City of Eastport, which took over the property from the state more than four years ago, announced December 5 that it had sold the land and buildings for $300,000 to Perry Marine and Construction.
As part of the deal, the new owner transferred ownership of 9 acres and several buildings to the Friends of the Boat School, allowing the boatbuilding school to continue operating and to even expand its programs. Perry Marine and Construction also gave the City of Eastport a parcel of waterfront land on Deep Cove Road and $75,000 for the construction of a new public access pier to serve both commercial and recreational boaters.
Perry Marine and Construction plans to use the facility to build turbines for Ocean Renewable Power Company, which is developing technology to harness the region's tremendous tides and convert their power into electricity. A new marine railway is also planned for the site, allowing Eastport-based crews to service large vessels that currently have to go farther south to be repaired or serviced.
"This is a win, win, win for Eastport, The Boat School, job retention and creation in Maine's most economically challenged region" said John Miller, a former administrator at the Boat School and a member of the Eastport City Council. "It puts the Boat School on solid footing, provides tremendous growth opportunity for Perry Marine and Construction, and clears the way for the building of the turbines for Ocean Renewable Power Company. At the same time it gets this giant gorilla off the back of the city and out of the pockets of my neighbors."
The Boat School, founded in 1969, has long struggled to survive in the country's easternmost city. Operated by the Washington County Community College for nearly four decades, the school was sold to the City of Eastport for one dollar in September 2007, when Husson College began running it. In recent years the city has spent up to $15,000 per month to keep the facility running, adding up to a $600,000 expenditure by a community that has seen cuts in local schools and infrastructure. Earlier this year, Husson College announced that it was leaving the school at the end of the 2012 school year. This summer, Marlow Yachts proposed buying the property, but that deal fell through.
"The sale of the Deep Cove facility represents an excellent example of community/private business partnerships," said Eastport City Manager Jon Southern. "Eastport has hosted a Boat School for many years and will now be able to continue to do so at no expense to taxpayers. The Friends of the Boat School have put huge effort and resources into ensuring the survival of the School over the past decade; as such they have earned an opportunity to take the school to the next level of success. This next chapter in the Boat School's history will not only preserve jobs but will hopefully put Eastport on the map as a world-class marine education destination."