Maine Crews Hit the Water in Antigua
Posted by Sail Maine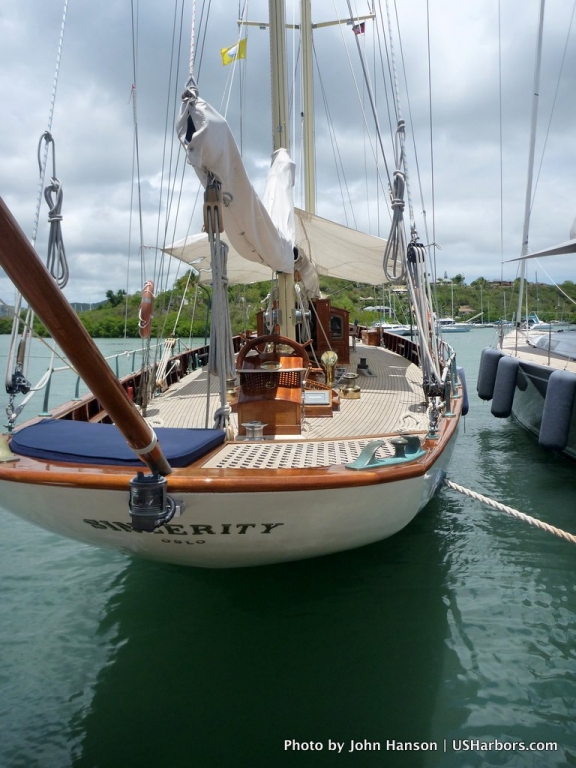 The jetlag has worn off and Maine crews are hitting the water in Antigua, getting ready for the Antigua Classic Yacht Regatta and the best party in the Caribbean — the Sail Maine Party, sponsored by eight top Maine boatbuilders and boatyards as well as Maine Boats, Homes & Harbors. As the crews head out to the docks we're starting to get some reports of just how close-knit the yachting community is, as Maine crews meet up with old friends and make new acquaintances that are soon to become Maine's newest coastal visitors.
John K. Hanson, Jr., publisher of Maine Boats, Homes & Harbors, says that cruising around the harbor in Antigua is like taking a trip through Maine's sailing and boatbuilding history books:
"Sitting at Galleon Beach after walking the docks of English Harbor and Antigua Yacht Club. All of the shoreside show were being staged – band stand with rock band sound check, the Classic Yacht Regatta, sponsor pavilions, and, best of all, boats getting ready.
"Ah, the boats. There were many gorgeous yachts, but the one that stuck out for me was Stormvogel, a mid-sixties legend of my youth. There were many more beautiful, but this one resonated.
"We are sailing on Sincerity, a yacht based in Camden, Maine, and Oslo, Norway. Some of the other yachts with Maine connections were Mary Rose, a recent Rockport Marine rebuild; Signe, a ketch built at Renaissance Yachts in Thomaston; and Ticonderoga, a yacht frequently seen at Wayfarer Marine and in Camden Harbor. There were more."
Meanwhile Ben Cashen, dockmaster at Wayfarer Marine in Camden, is getting his "Island Office" set up for the week's festivities:
"Enjoying the view from the Wayfarer Marine headquarters in Antigua during the 25th Antigua Classic Yacht Regatta. The Ocean Inn has been a choice place to stay for visiting yachtsman for years. The beautiful views of historic Nelson's Dockyard can't be beat.
"Last night was the opening party for the 25th Antigua Classic Yacht Regatta, where hundreds enjoyed great music, good laughs, and a bit of rum. It's amazing how many familiar faces and old friends your run into here!
"Some of today's events include the Concours d'Elegance and the Single Handed Skipper's Race. Racing for the entire fleet begins Friday."