Free Demo Sails to Be Offered at Newport Boat Show
Posted by CW Hood Yachts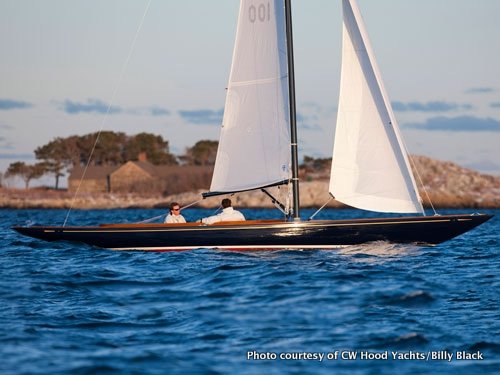 C.W. Hood Yachts is pleased to announce that a CW Hood 32 Daysailer will be available for demonstration sails offered by Sail America's Discover Sailing Program at the Newport International Boat Show, September 13-16, 2012 in Newport.
"We are delighted to have one of our CW Hood 32's available for Discover Sailing participants", says Chris Hood, founder of CW Hood Yachts. "The 32' represents a very comfortable sailing experience and we are honored to help introduce the world of sailing to attendees of the show."
"Sailing is a great sport and lots of fun! If you are a newcomer, you probably want to know how to get started. All it takes is a little time on the water and a basic understanding of what powers a sailboat, and that introduction can start at the Newport Show," says Gary Edelman, Show Director for the Discover Sailing Program.
The CW Hood 32-foot Daysailer's unique design features a large, open cockpit with comfortable bench seating. Single handers will find everything within easy reach while still providing plenty of room for guests or a team of crewmembers racing around the buoys.
"The 32' is a very easy boat to sail while offering modern day responsiveness that is unequal to anything on the water, today", Hood says. "A short sail always brings positive comments of what a comfortable boat the 32' is to sail while feeling the quick performance of the boat's design. This is a good opportunity to demonstrate to those who are interested in learning how to sail that this type of design is both very easy to sail and comfortable in all conditions".
"Learning to sail can be easy and fun for all ages. Discover Sailing offers a great opportunity for people who want to learn to sail but don't know how to get started. This program is a perfect addition to the show," says Show Director Nancy Piffard. "We hope that attendees who have never sailed before will take advantage of going for sail in Newport Harbor so they can experience the fun that the sport offers."
Visit Sail America's Discover Sailing on-hand crews and sailboats at the docks within the show to learn more about this sport and to discover just how easy it is to sail away.
For more information about CW Hood Yachts, click here.
For more information about Sail America and Discover Sailing, click here.