Nauset Launches 25′ Walk-Around Pilot House Yacht
Posted by Nauset Marine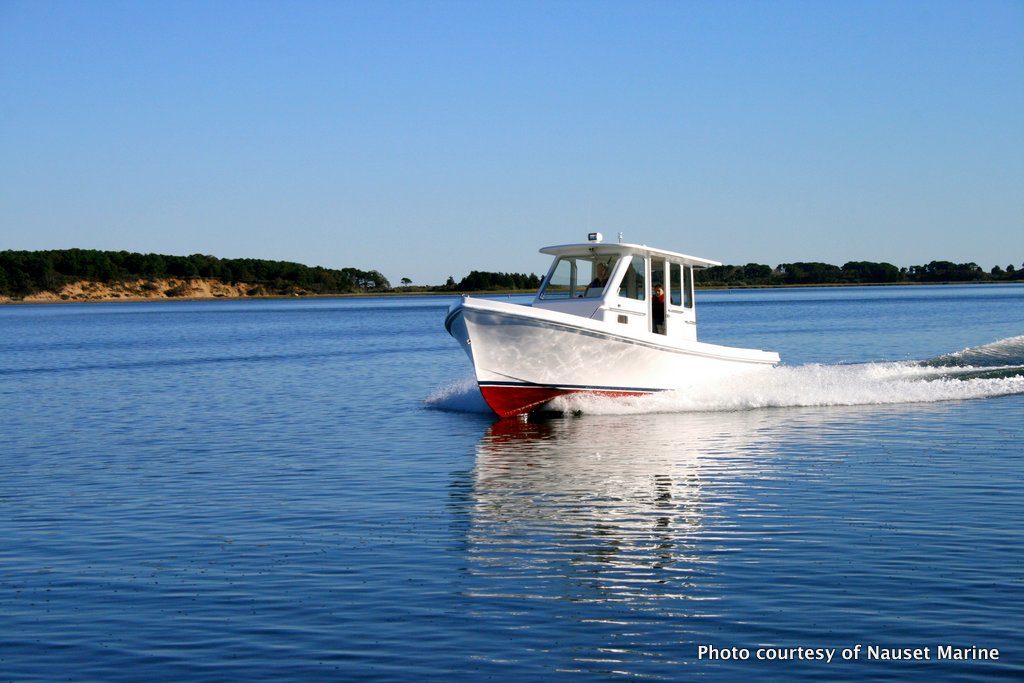 Nauset Marine has unveiled the new "Nauset 25 walk-around pilot house." Initially created to the requirements of a customer in Bermuda, this new yacht was designed for commuting from the smaller islands in Hamilton Harbor to the mainland and for inter-island weekend cruising. The Nauset 25 Walk-Around Pilot House can also be set-up for fishing, harbormaster work and commercial towing, or utility work.
The 25-foot Lezlie Anne is built on Nauset Marine's proven full-keel, solid-glass hull. Powered by a 260-horsepower Yanmar driving through a ZF V-drive to a 17-inch square wheel, its bronze skeg and sizable rudder provides outstanding low-speed maneuverability.
The single fiberglass tank is located mid-ship and has a fuel capacity of 125 gallons. Numerous storage areas are available in a small cuddy on the forward deck, which also includes space for a head, batteries, and interior console access. One Group 27 battery powers the engine, along with a pair of six-volt deep cycles to power the SidePower SE60 series bow thruster. Both battery banks can be combined through Blue Seas electrical equipment.
The engine area is well insulated in the pilot house with Soundown lead/foam noise reduction blankets and a completely removable engine enclosure for full access. The helm area features equipment from Teleflex, Morse, Garmin, Icom, and Imtra. Wynne windows and Wise double-swiveling helm seats are another custom feature. The Lezlie Anne cruises in the 18-to 20-knot range at 2800 rpm.
The hull, molded by Seaglass technologies of Rhode Island, is made of solid-glass construction with a Vinylester first layer. All other parts were done in-house at Nauset Marine. New tooling was built for the pilothouse, with the intention of making it available to the marine marketplace. It is available as a complete unit or as a molded part only.
Nauset Marine has been building boats since the 1970s. Current models range from 21 to 38 feet. In addition to serving as one of the world's largest independent Boston Whaler dealers, Nauset Marine also sells Eastern and Hurricane boats, with three locations serving Cape Cod and the islands and southeastern Massachusetts.
Founded in 1961, Nauset Marine remains under the same family ownership and has more than 50 year-round employees. Click here to visit our website and to stay current with the latest projects.