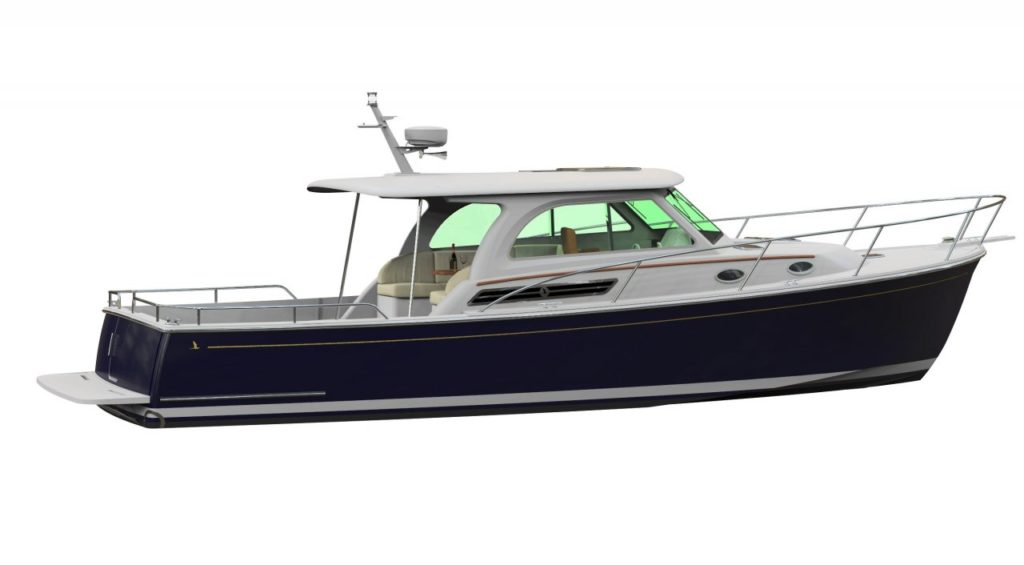 Back Cove Yachts of Rockland, Maine, is pleased to announce their latest design, the Back Cove Downeast 37, which will debut in July 2013. The company's new tagline, "Practical Elegance, From Maine", defines the Back Cove Downeast 37 well. It is practical, elegant and perfectly suited for a day trip along the coast.
Highlights:
1. Great for cruising – flexible seating
2. Large cockpit = 11ft x 11ft
3. Sharp profile
4. Smaller house (lower and sleek)
5. Helm deck is open
6. Has a companionway with a lock
Kevin Burns, Vice President of Design and Product Development, says, "This is an opportunity for us to take all of our thoughts and ideas about what makes day boats such great platforms, and grow those ideas to a scale which allows the proportions to be elegant and balanced."
The design team at Back Cove Yachts designed the Downeast 37 was with today's boating lifestyle in mind. "The ideas that drive the Downeast 37 design are very simple: Stop-you-in-your-tracks prettiness and the biggest, most flexible exterior spaces available on a boat this size — period," says Burns.
Owners will appreciate the open cockpit with a SureShade cockpit cover; perfect for an afternoon cruise. They kept the hull of the successful Back Cove 37 but completely redesigned the deck and interior. In the engine room, you'll find a Cummins 480 which will provide a cruise speed of 20 knots and top speed of 25 knots.
To Learn more, click here or visit the Back Cove website.