Hunt Yachts Introduces Surfhunter 29 Outboard Edition
Posted by Hunt Yachts
Last Updated
Hunt Yachts, of Portsmouth, is pleased to introduce a new twist on a modern classic with the launch of the first Surfhunter 29 to feature outboard engine propulsion. Following the tremendous success of the new C. Raymond Hunt-designed, Hunt 32CC, the Surfhunter 29 continues to embody the core attributes of the Hunt brand: performance, style, and a keen attention to enhancing the characteristics of the Hunt Deep-V hull. This latest iteration of the Surfhunter 29 features twin 300hp four-stroke outboard engines, delivering speeds to 47 knots and the smooth, dry, and comfortable ride for which Hunt Yachts are praised.
The debut marks a shift for the iconic brand, long known for the wide range of propulsion choices, part of the semi-custom approach to boatbuilding. The increased production of outboard models by Hunt represents the growing popularity of outboards and the versatility of the Hunt Deep-V hull shape. "The Hunt Deep-V is unique in its ability to accommodate a range of engine options while still delivering the celebrated capability and comfort that sets Hunt Yachts apart from mass market manufacturers," remarked Hunt Yachts President Peter Van Lancker. "We are proud to be able to offer this range of propulsion options without sacrificing an ounce of performance, style, or comfort."
A traditional New England coastal cruiser, the Surfhunter 29 features classic styling, a high-performance pedigree, cozy creature comforts, and the confidence to boldly go wherever adventures lead. Whether plans include a day of fishing, an overnight at anchor, or a cruise up the coast, the Hunt Deep-V guarantees a fast, dry, and comfortable ride. From Cape Cod to Catalina, the Surfhunter's enduring good looks and perfect union of form and function will turn heads and attract compliments.
Standard propulsion for the Surfhunter 29 outboard edition is twin 250hp engines, with an optional upgrade to twin 300s for a top speed of 47 knots.
Surfhunter 29 Specifications:
LOA: 29'6"
Beam: 10'6"
Draft (hull/prop): 1'6"/3'1"
Displacement: 8,000 lbs. (fully loaded)
Fuel Capacity: 150 US gallons
Water Capacity: 28 US gallons
Standard Power (outboard edition): twin 250hp outboards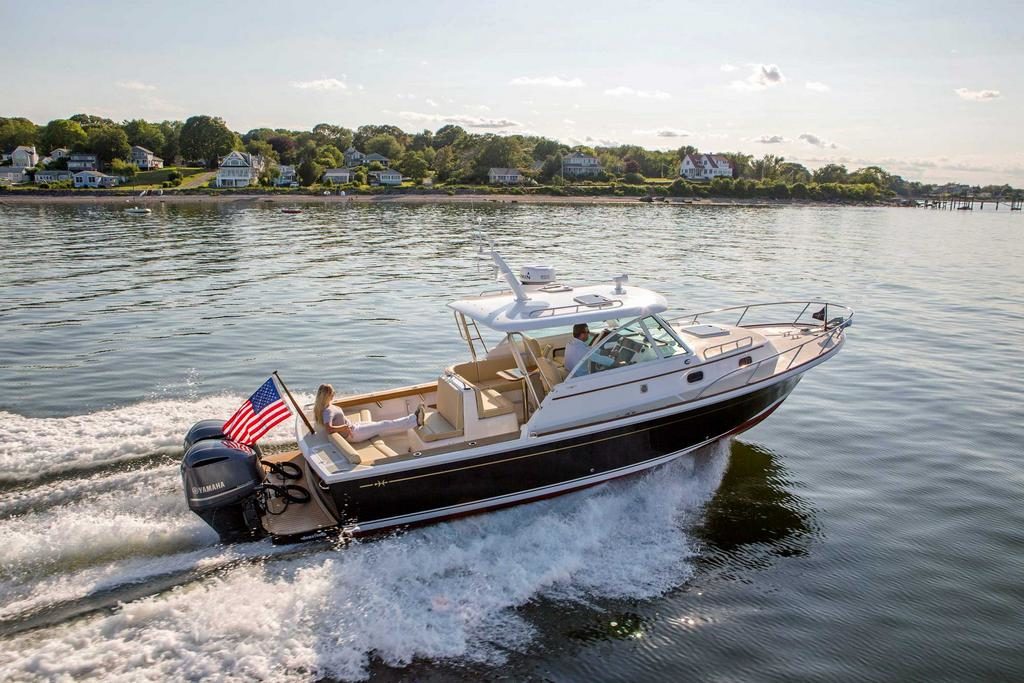 Photos of Hunt Yachts Introduces Surfhunter 29 Outboard Edition