Combining Traditional & Modern in a Sailboat Ideal for Easy Outings
Posted by Boats Of The Year
CAPE COD SHIPBUILDING CO. was thrilled to launch Hull No. 2 of
our Marlin Heritage 23, a "modern
classic" daysailer/overnighter that
perfectly fits the bill for traditional
looks and modern conveniences.
We've combined the classically
beautiful hull designed by Captain Nat Herreshoff, the "Wizard
of Bristol," with convenience and ease of use. We've fitted
this boat with the gorgeous features you'd expect of a classic:
high-gloss varnished mahogany coamings, oiled teak
interior trim, teak and holly sole.
With two bunks below, Porta Potty, cooler, electrical
system for running lights, inboard Yanmar diesel with
folding prop, self-tacking roller-furling jib, seating for six,
and a low-maintenance galley, the Marlin Heritage 23 has
everything needed for single-handed or family sails. If
you are becalmed, simply pushing a button starts the
engine.
Hull No. 2, which was delivered to an owner in Chesapeake
Bay, had system upgrades such as a swing-arm GPS,
viewable from the tiller or down below.
As the oldest American sailboat
builder in continuous production, our
first-rate construction and semi-custom
sailboats are a welcome contrast to
mass-produced, lightweight sailboats
built elsewhere. We hand-lay fiberglass
and mold the hull and deck to form one
unit, ensuring that our boats last for generations. Today,
with the third generation of Goodwins onboard, we continue
to preserve the designs of the past while offering modern
amenities for the practical sailor.
CAPE COD SHIPBUILDING CO.
7 Narrows Road, P.O. Box 152
Wareham, MA 02571-0152
508-295-3550
[email protected]
www.capecodshipbuilding.com
Excerpted from Boats of the Year 2016. Click here to read more stories from the latest edition.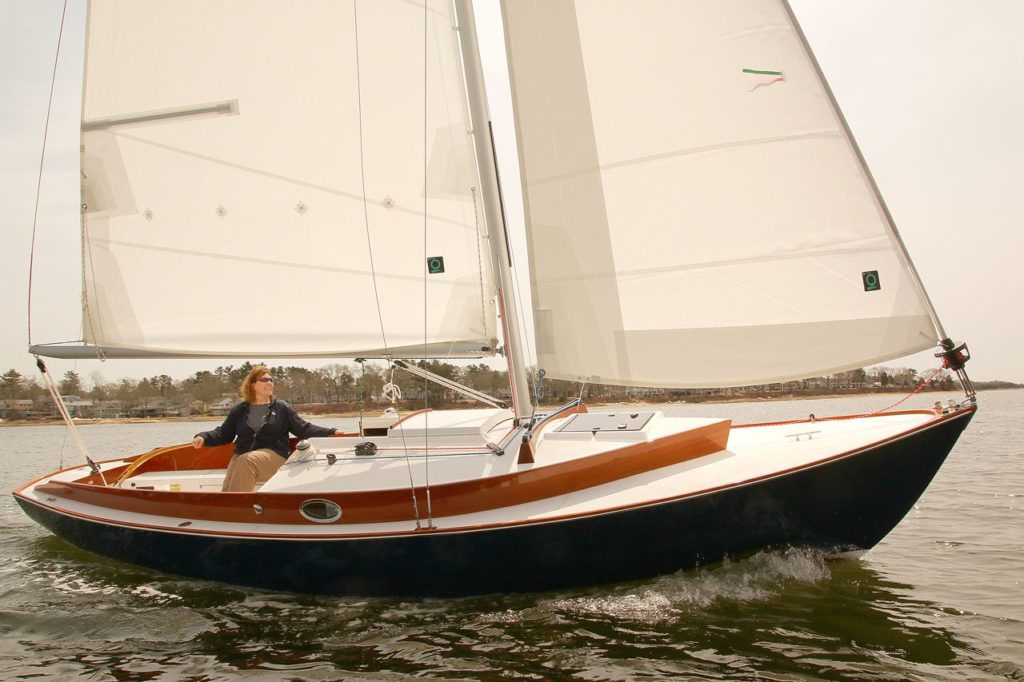 Photos of Combining Traditional & Modern in a Sailboat Ideal for Easy Outings