SEVERAL YEARS AGO, a hard-core boater who is also
employed in the high-tech world approached East
Coast Yacht Sales about a new boat. ECYS deals in quality
fiberglass sailboats, trawlers, and downeast-style powerboats
from Connecticut to Maine.
The boater was intrigued by MJM Yachts' Doug Zurn-designed
40z, a downeast-styled, high-performance, fuel-efficient
yacht with unique features such as computerized/
fingertip control, side-opening doors, spacious seating,
dinette/berth convertible, and roll-up curtain and opening
windshields for flow-through air.
Given his background, the high-tech construction of
the 40z proved equally interesting. Unidirectional tri-axial
Kevlar/Corecell and E-glass, pre-impregnated with epoxy
resin and baked in a marine oven, controls the resin-to-glass
ratio compared with conventional roll-on methods. The
result is a hull and deck that are light, strong, fuel-efficient,
and provide a great ride with a low center of gravity.
"When the boat launched, the owner was using his
other boat less than 75 hours per year, and the MJM from
175 to 200 hours per year," said ECYS' Jon Knowles. "He's
having so much more fun with this boat, the performance
is more exciting, and it's easier to just jump on and use."
ECYS, established in 1986, is a top dealer for MJM, which is currently
building four 40zs and three 50zs.
EAST COAST YACHT SALES
106 Lafayette St., Yarmouth, ME 04096, 207-846-4545
Camden, 207-236-8656
Salem, MA, 978-744-7070
Portsmouth, RI, 401-682-2010
Stonington, CT, 860-415-8282
[email protected] • ecys.com
Excerpted from Boats of the Year 2016. Click here to read more stories from the latest edition.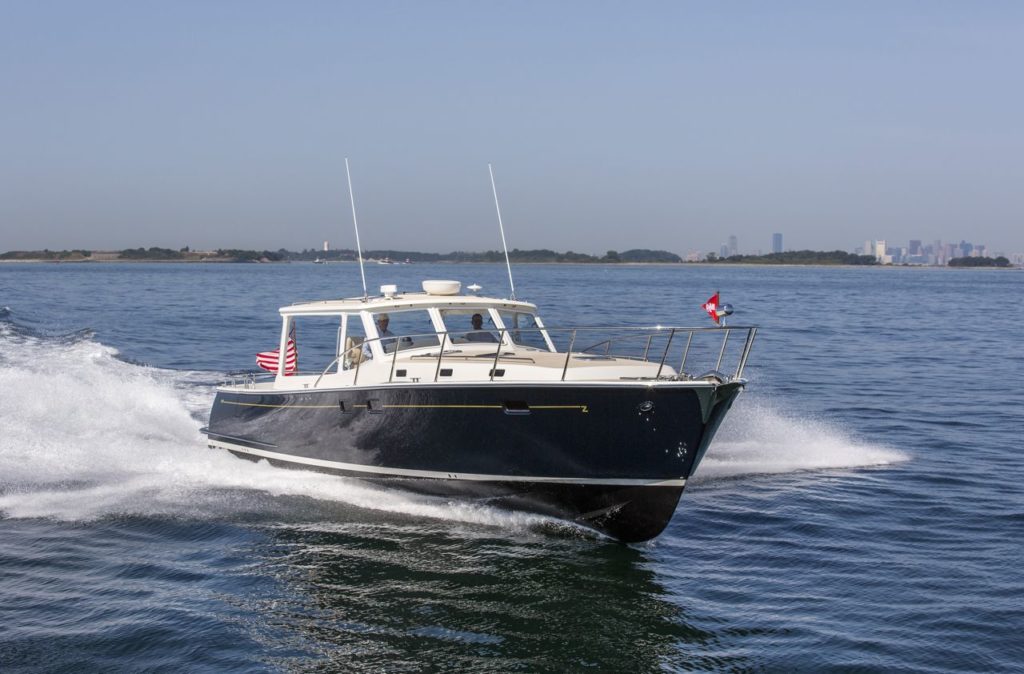 Photos of Fun and Performance in High-Tech MJMs