TWO EXCITING DEVELOPMENTS demonstrate
the strength of new product development
at Sabre Yachts.
The company launched its first
Sabre 66 motoryacht, its most aggressive project to date. The Sabre 66 Dirigo is the largest U.S.-built
downeast-style motoryacht on the market. As importantly,
the model leverages new propulsion technologies that
make short-handed operation possible.
"Sabre offers exclusively pod drive systems from Cummins/
Zeus and from Volvo/IPS," said Bentley Collins, Sabre's
vice president of sales. "The technology is well-developed,
and features such as joy-stick steering continue to expand.
These technologies make owner-operated vessels well into
the 60- to 70-foot range a reality."
Pod drives also substantially improve fuel efficiency and
reduce engine noise.
"We never stop chasing new technologies.
It's what our clients expect
and enjoy," Collins said. "Owner-operator
is key here. Our owners travel—to Newfoundland,
the Bahamas, up the West
Coast, Alaska. They spend long periods of time onboard,
going places and doing things. None of them take on professional
crew, so being able to use the boat shorthanded is a
big part of the boat from the technical standpoint."
In addition to the development of the 66 Dirigo,
Sabre tooled a new flybridge mold for its
very successful Sabre 48 motoryacht.
SABRE YACHTS
12 Hawthorne Road, Raymond, ME 04077
207-655-3831
[email protected]
sabreyachts.comExcerpted from Boats of the Year 2016. Click here to read more stories from the latest edition.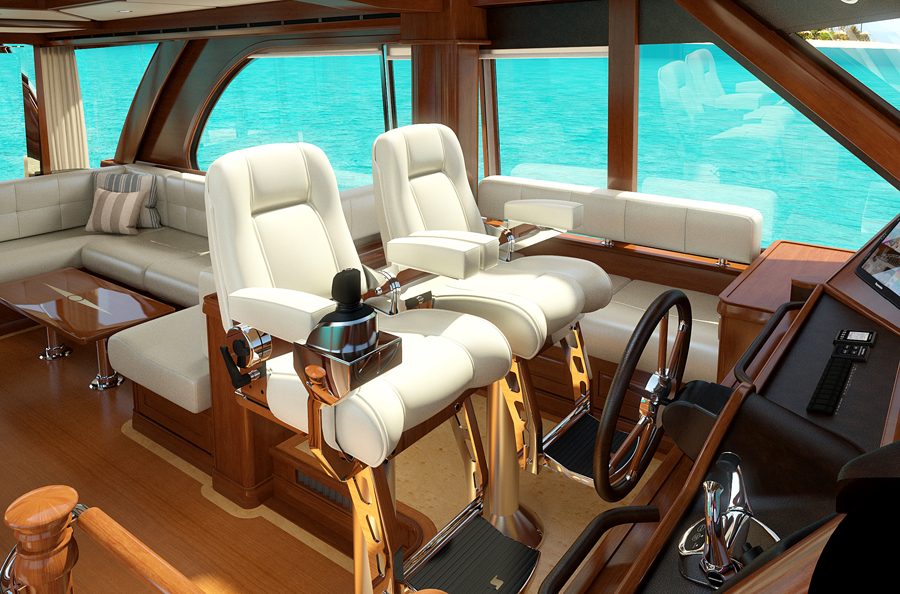 Photos of Sabre 66 Dirigo: New Tech for Short-Handed Cruising