SOON AFTER THE OWNER of a Vicem 58 met Maloney
Interiors owner Ally Maloney, he selected her
to help guide his yacht's complete soft-goods refit.
Maloney, who has a youthful, innovative approach to
design, aims to give clients functional products that look
right in their yachts and reflect their unique taste. After
replacing all three mattresses on the customer's Vicem, she
addressed the custom bedding and linens. For the master
stateroom, she drew inspiration from a Ralph Lauren line of
bedding that the owner liked, and created a similar look,
sewing a custom-fit lightweight bedspread from a navy
matelassé fabric.
"We paired it with a beautiful navy-and-white paisley
print for the duvet and shams," she said. "Custom window
curtains, throw pillows, and a dressing seat completed the
room."
The guest stateroom is dressed more casually in a soft
navy-and-white print fabric, and the exterior seating features
solid navy cushions and plush throw pillows for comfortable
entertaining.
"I take advantage of the latest products, try to anticipate
design trends, and incorporate them into my projects,"
Maloney said.
Maloney Interiors offers services in custom fabricated
soft goods, furniture, outfitting, and more, for everything
from super yachts to small boats.
MALONEY INTERIORS
P.O. Box 305, Warren, RI 02885
203-206-6877
[email protected]
www.maloneyinteriors.comExcerpted from Boats of the Year 2016. Click here to read more stories from the latest edition.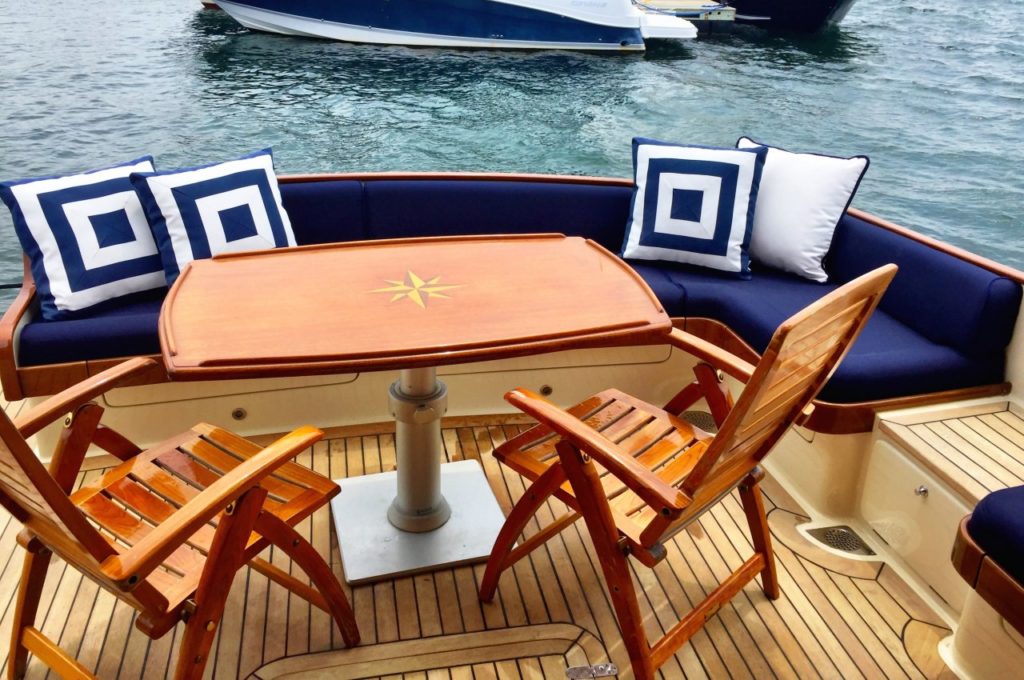 Photos of A Design-Forward Approach on NARRAGANSETT BAY