ANNE ELISE IS THE PERFECT SHOWCASE for
Devlin Designing Boat Builders, where Sam
Devlin is known for his unshakable adherence to classic
wooden boat design combined with state-of-theart
technology.
"If you had told me, 38 years ago, that I would be
building a classic wooden boat with 600-horsepower
joystick controls and a top speed of 50 miles per hour,
I would have said you were crazy," Devlin said.
Anne Elise is the first of Devlin's Red Salmon 33 line
of fishing cruisers, a traditionally styled wooden boat
kicked up with modern performance technology. The
Mercury Marine dual-station joystick control system—
the first in the world, according to Mercury—
can move the boat in any direction and turn it in place
with one-handed input, providing Anne Elise with
responsive handling, whether going full-throttle or
easing alongside the dock. The Mercury system also
offers traditional autopilot functions with GPS, gyro,
and accelerometer integration. Twin Verado 300-
horsepower outboard engines offer remarkable performance
and fuel economy.
Even Devlin was astonished by the boat's responsive
performance.
"I had told our customer before the launch that
he might want to take it easy on the throttles, but
after driving Anne Elise, I found she's so much fun that
I didn't want to throttle back!"
Other features include berths, galley, enclosed
head, shower, cabin heater, hot water heater, chartplotter,
radar, and satellite radio.
DEVLIN DESIGNING BOAT BUILDERS
2424 Gravelly Beach Loop
NW Olympia, WA 98502
360-866-0164
[email protected]
www.devlinboat.com
Excerpted from Boats of the Year 2016. Click here to read more stories from the latest edition.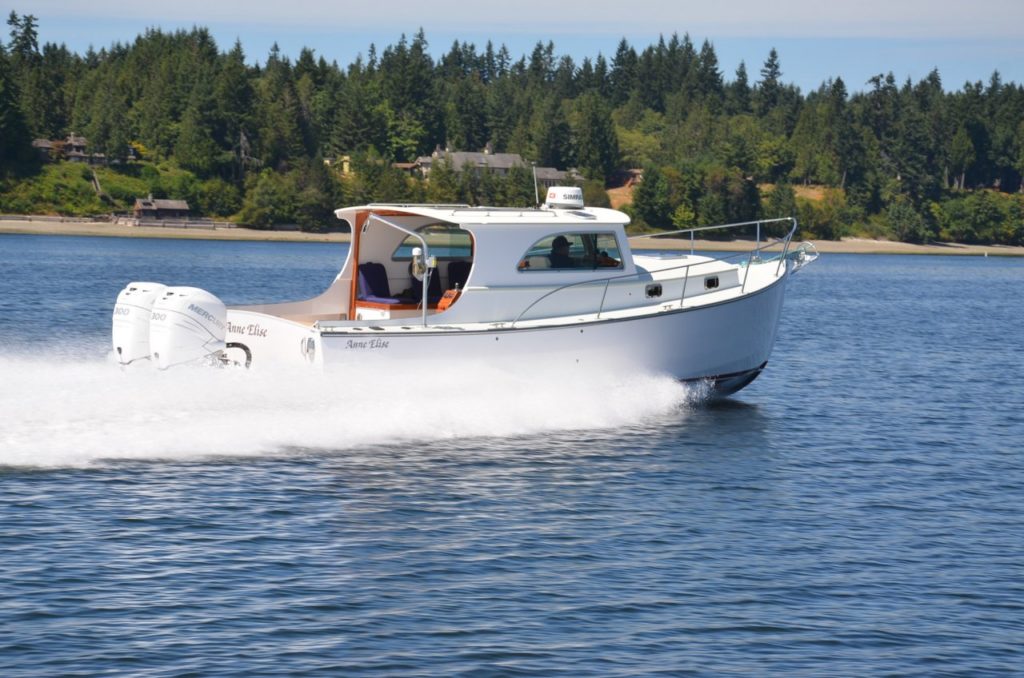 Photos of Hot-Shot West Coast Hybrid Combines Wood and Performance