Get Your Groove on at the Small Boat Love-In
Posted by US Harbors
Last Updated
Are you a small-boat enthusiast? Do you love to show off your boat? If so, you'll want to trailer your beloved boat to Rockland for the 2018 Small-Boat Love-In – or SBLI for short. The SBLI is a groovy gathering of privately-owned power, sail, and human-powered boats under 22 feet in length. It will take place during the annual Maine Boat & Home Show, August 10-12, 2018 in Rockland. Come meet other owners, see boat models on display, show off your boat, and enjoy the rest of the show.
It's easy! There is no charge to participate but pre-registration is required. Just REGISTER, then spiff up your beloved boat (of any kind or vintage), load it on its trailer, bring it to Rockland, and exhibit it for the weekend at the show. In return, you'll get in free and receive three additional weekend passes plus a subscription to Maine Boats, Homes & Harbors magazine. The Small Boat Love-In is sponsored by USHarbors.com.
A big fleet of small boats is expected, power and sail, old and new, from Corsons to Whalers and hand-made canoes to go-fast fiberglass center-consoles. The Traditional Small Craft Association is bringing a small armada, and MITA will be represented by "the boat that mapped the Maine Island Trail." Come add your boat to the mix and join in the fun!
SBLI FAQ:
WHEN DO I ARRIVE?
Thursday, August 9, 4:00-6:00 p.m. is the preferred check-in time.
Check in will be at the Will-Call office via the Buoy Park show entrance (near the Rockland Police Station). Click here for maps and directions. If you bring your boat Friday-Sunday mornings, plan to arrive NO LATER THAN 8:30 a.m. to give you time to check in and get the boat into position.
DO I HAVE TO STAY ALL WEEKEND?
Of course we'd love to have your boat on display as long as possible. We do understand that some participants can only commit to one or two days at the show, and that's fine too. However, please note that once your boat is on the show site, it must remain there for the entire day.* Please plan accordingly.
WHAT TIME CAN I LEAVE?
*It takes a bit of time to clear the site of pedestrians after the show closes, so you won't be able to leave show grounds right at closing time (the exit gate opens at approximately 5:30 on Friday & Saturday and 5:00 on Sunday). Please plan accordingly.
WHERE CAN I PARK?
After your boat is in place, you'll find ample free parking for your tow vehicle at nearby Snow Marine Park (an easy half-mile walk from show grounds). There is also paid parking (all proceeds go to local nonprofits) at DST (formerly Boston Financial) on Water Street next door to the show. Click here for maps and parking information.
**NOTE: Please do NOT park on-street near the show grounds. Those spaces are best left for show attendees.**
16th Annual MAINE BOAT & HOME SHOW
August 10-12, 2018, Harbor & Buoy Parks, Rockland
Held annually on the second weekend in August on the waterfront in Rockland, the event attracts thousands of discerning attendees from all over the country and world. The three-day event is also Maine's only in-the-water boat show.
Don't have a small boat to display? Admission to the show is just $15. Each adult ticket is good for all three days (kids under 12 always get in free). Special Access Passes, which include parking and other perks, are also available. BUY TICKETS
Gates open at 10 a.m. daily.
For more information and to purchase tickets, visit maineboats.com/boatshow or call 800-565-4951. The show was founded in 2003 by Maine Boats, Homes & Harbors magazine.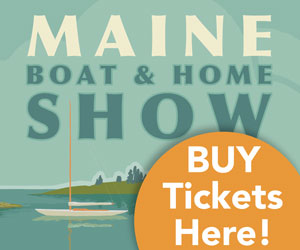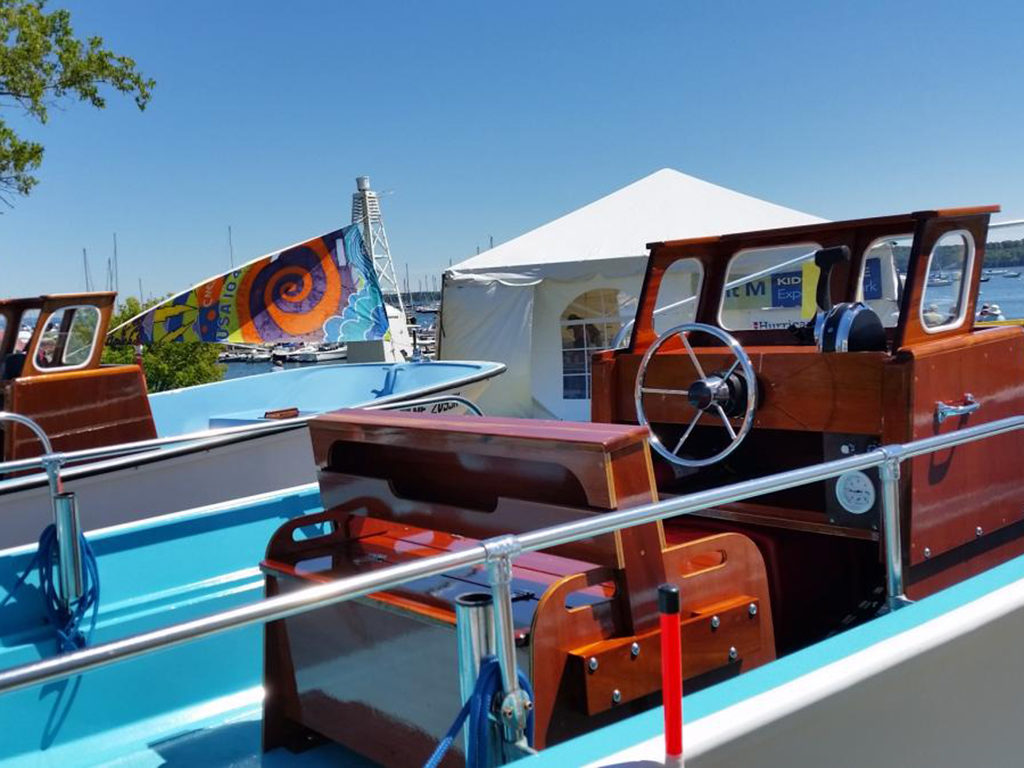 Photos of Get Your Groove on at the Small Boat Love-In