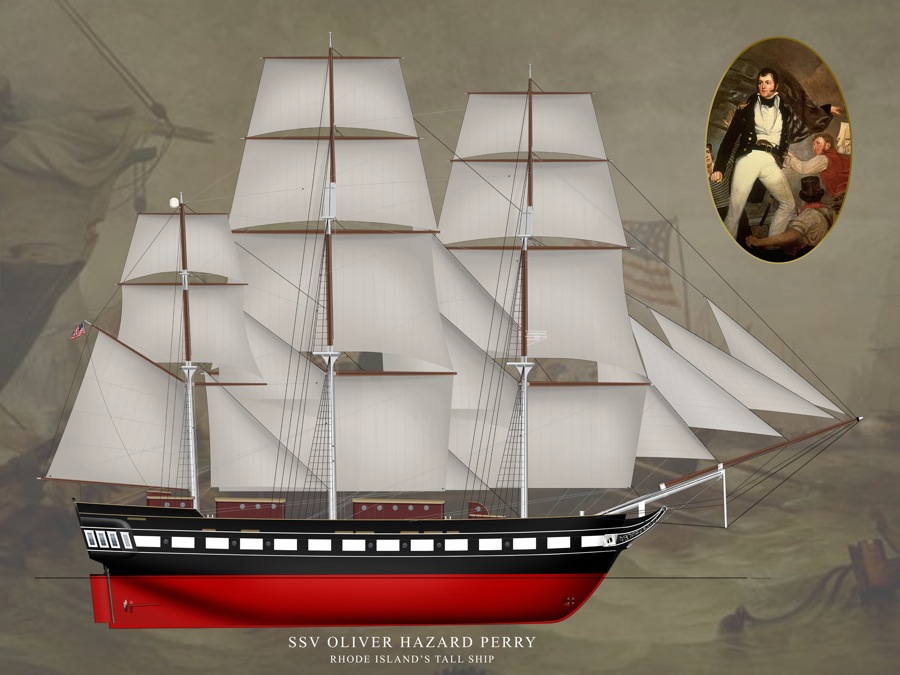 Bart Dunbar, Chairman of Oliver Hazard Perry Rhode Island (OHPRI), announced that OHPRI has been awarded a $500,000 grant from the Alletta Morris McBean Charitable Foundation in support of the construction of the 196-foot long, 13 ½ story tall ship SSV Oliver Hazard Perry. This significant grant builds upon $300,000 in previous funding from the foundation, making it the largest donation to the $7.4 million project to construct and operate Rhode Island's official sailing school vessel.
"The Alletta Morris McBean Charitable Foundation has shown its faith in this bold educational, cultural and economic development project, and we are honored by the foundation's trust in our plans and our progress," says Dunbar.
The Alletta Morris McBean Charitable Foundation grant also triggered a $250,000 matching grant from The Stratus Foundation, which had issued a challenge in 2011 to any individual or organization willing to give the project a $500,000 grant. The matching grant increases the Stratus Foundation's investment in the SSV Oliver Hazard Perry project to $500,000.
"I am thrilled that OHPRI has earned support from the Trustees of the Alletta Morris McBean Charitable Foundation based on the merits of its mission, the management of the SSV Oliver Hazard Perry project, and the wide-spread community support for this exciting effort to get Rhode Island children to sea to learn many new lessons from the ocean," says Regis de Ramel, a trustee for The Stratus Foundation who is also an OHPRI board member and early major donor to the project.
According to Dunbar, OHPRI hosted its third annual fundraising event two weeks ago at Castle Hill, netting over $57,000. Last week the organization received the donation of the 64' ocean cruising ketch Ocean Pearl, built for J. Seward Johnson, through its successful boat donation program managed by Block Island Maritime Funding. "This has been a $1 million month for the SSV Oliver Hazard Perry!" Dunbar remarks.
OHPRI has now raised over $5.4 million and is focused on raising the final $2 million while the ship is actively under construction at Senesco Marine at Quonset Point, North Kingstown. Oliver Hazard Perry remains on schedule for a commissioning in 2013, after which she will commence her mission of supporting and enhancing academic achievement in STEAM courses for science, technology, engineering, the arts and mathematics; sail training, leadership development; and career pathway exploration.
For more information about OHPRI or to contribute to its construction as a Plank Owner, click here, or contact Vice Chair Perry Lewis at OHPRI headquarters, Buliod-Perry House, 29 Touro Street, Washington Square, Newport, R.I., 401-841-0080.