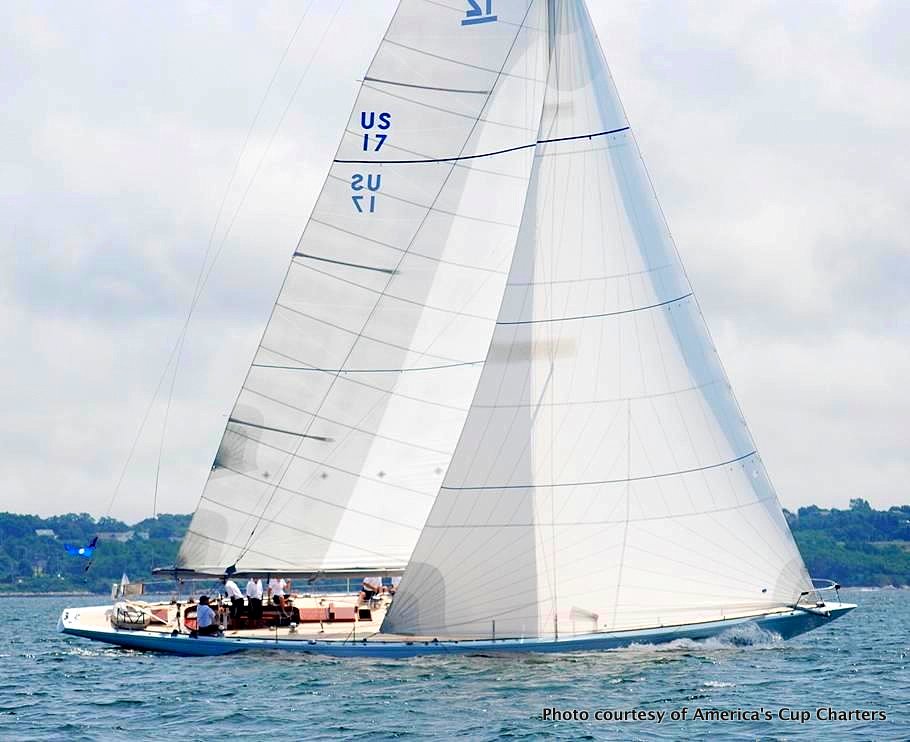 The 1958 sailing yacht Weatherly recently received federal recognition for its contributions to the history of naval architecture, engineering, and recreation. Edward F. Sanderson, executive director of the Rhode Island Historical Preservation & Heritage Commission, announced that the National Park Service has listed Weatherly on the National Register of Historic Places.
Weatherly, part of the America's Cup Charters fleet based in Newport, was the successful 1962 defender of the America's Cup, the most prominent trophy in the world of sailing. Weatherly is also significant as an early and notable example of the 12-meter class of racing yachts and of wooden and laminate yacht construction.
Weatherly is a 12-meter class sloop built in 1958 for the purpose of defending the America's Cup. Measuring 69 feet overall, she is of double planked wooden African mahogany over white oak frames. The below deck was originally fitted out to provide sleeping quarters for an eight-member crew, but it was largely stripped down in 1962 to reduce weight. In 2000, shipwright and furniture builder James Langston and George Hill built the present interior to accommodate day charters and the professional crew.
As ocean yachting was reviving in the early 1950s, the New York Yacht Club consulted with their English counterparts at the Royal Yacht Squadron about resuming international cup competition. Rather than the extravagantly large boats of previous years, they sought something smaller and more affordable. They settled on the largest class of racing yachts actively sailing at that time, the International 12-meter class.
Three syndicates sponsored new yachts that would compete to defend the America's Cup. Henry D. Mercer of Rumson, New Jersey, led the syndicate that commissioned Weatherly. Naval architect Philip L. Rhodes designed the boat and oversaw its construction. With its graceful lines, Weatherly's design was acknowledged for its artistic quality, as well as its racing attributes.
A.E. Luders Jr. of Luders Marine Construction Company in Stamford, Connecticut, constructed Weatherly using the best materials and most current laminating techniques of the day. Although Weatherly did not make it past the 1958 Cup trials, the boat compiled several wins under skipper Arthur Knapp Jr. and an expert crew.
Few Cup contenders have ever been given a second chance, but her steadily improving record led Weatherly's owners to try again in 1962 and Weatherly prevailed among the four American yachts. The Cup match in September was then closely contested. Although the Australian yacht Gretel was faster than Weatherly, skipper Bus Mosbacher demonstrated superior tactical skills. Weatherly won four of five races to defend the Cup. She remains the only vessel in the history of the Cup to win it after an unsuccessful first attempt.
In 1965, the Henry Mercer Syndicate donated Weatherly to the United States Merchant Marine Academy at Kings Point, New York, where she was used as a training boat. She served as a trial horse in the 1967 and 1970 Cup preparations. Sold to private owners in 1970, she was converted for offshore racing, gaining a diesel engine and accommodations for eight people. Following several years on the Great Lakes and in Puget Sound, Weatherly was purchased by George Hill in 1986 and sailed back to Newport via the Panama Canal.
While en route, Weatherly suffered a serious accident in Florida when a boat lift failed, dropping the vessel and then collapsing on it. Repaired in Portsmouth and relaunched in Newport, she resumed sailing as a charter boat in 1988. Weatherly has competed in numerous races since then, winning her division in the 12-meter North American Championship more times than any other yacht. In 2005 she won the world championship in her division, and the overall Rolex prize.
Weatherly remains largely intact, containing approximately 90% of her original structure, with 10% of her weight being new material.
According to Sanderson of the R.I. Historical Preservation & Heritage Commission, "The Ocean State has been a world-class yacht racing center for over a century, and Weatherly is an illustrious representative of this proud tradition."