Stephens Waring Yacht Design is delighted to report that our Citronella powerboat concept has been recognized by the Design Et Al International Yacht and Aviation Awards for 2014. Hosted by leading interior design magazine Design Et Al, the International Yacht & Aviation Awards reward the best in design from across the globe. In their words, "Design is a gift, and those who can unleash it effectively are worthy of praise."
Citronella was shortlisted as one of two Stephens Waring concepts to compete for the award in the "Concept Up to 30 Meters" category. The other yacht to be recognized is our sailing coupe, Rapture — a striking new take on the sporty daysailer. The award ceremony will take place in London in May 2014.
Designed for cruising in style and comfortable picnicking, the Citronella sedan concept redefines the balance between function and style for a traditional yacht tailored by elements of classic car graces. The yacht offers a bit more heft and comfort than a day boat, yet its design stretches out a set of bullet-points in a spirited mission of speed, elegance, and use-ability.
Citronella is a jump from the "downeast"-inspired picnic boat concept; she makes a roomy and easily handled cruiser. Onboard creature comforts range from fully appointed galley and stand-alone shower stall to zoned air-conditioning and state-of-the-art electronics & engine controls. The general arrangement lends to entertaining guests while on cocktail cruise or as live-aboard for a couple spending time together on a harbor-hopping tour.
The power plant is spec'd with twin Volvo IPS series 400 drives, each operating at 300 hp. The light-weight and highly-efficient propulsion package will mean top speeds exceeding 32 knots and quick passages cruising nicely at 28 knots. IPS delivers intuitive joystick maneuverability and handling while docking or in tight quarters — adding yet another facet to enjoying a fantastic experience on the water.
Options
"Side-to" boarding platforms (each side of cockpit)
Stern drive propulsion configuration
Leather, vinyl or painted cabin top
Opening sunroof
Teak decks or trim packages
Construction
In production, E-glass and Corecell foam composite/sandwich laminate. As custom one-off, cold-molded wood Western Red Cedar and epoxy over laminated Douglas Fir frames.
Specifications
LOA 44 ft. – 2 in.
LWL 43 ft. – 11 in.
B – Max 13 ft. – 8 in.
BWL 11 ft. – 10 in.
Draft 3 ft. – 2 in.
Disp 22,800 lbs.
Fuel Cap 500 gal
Power 2 x Volvo IPS 400
Speed 32 knots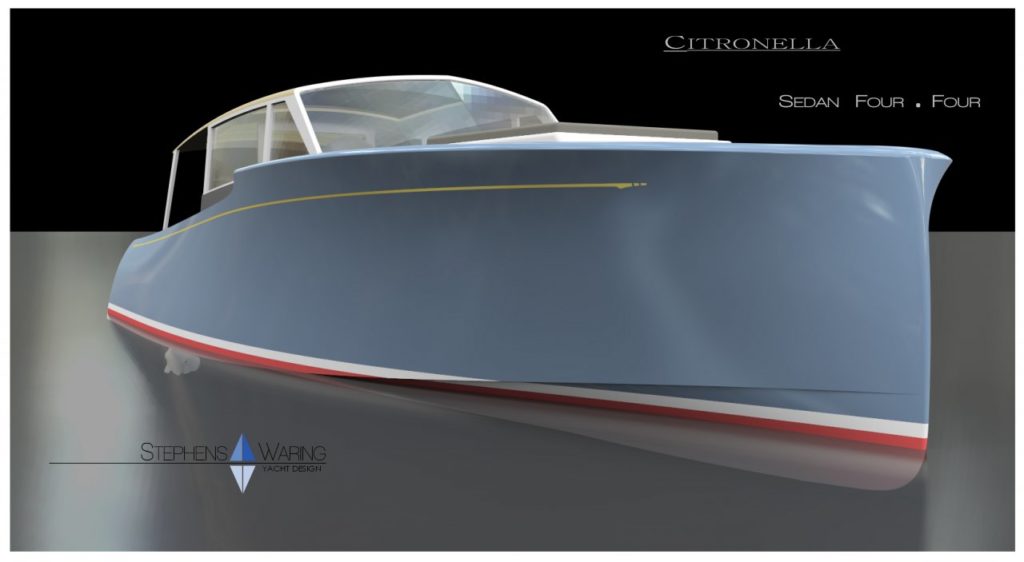 Photos of Maine Powerboat Concept Recognized By Design Society