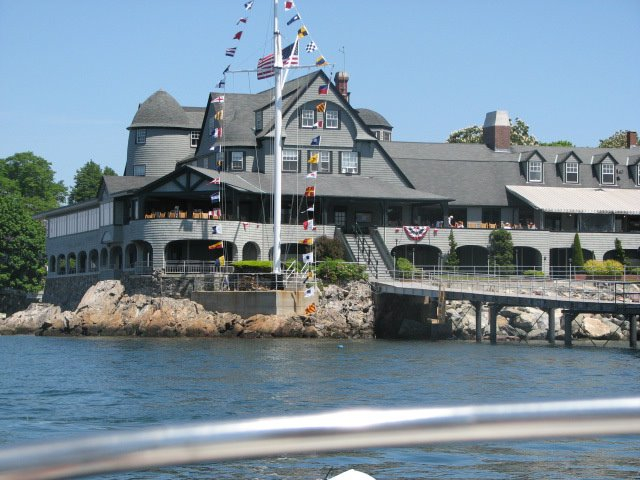 The Corinthian Yacht Club is a full service yacht club that offers members and visiting skippers a broad range of racing events and accommodations for their stays. The racing calendars are coordinated with the other two major yacht clubs in Marblehead Harbor, the Eastern Yacht Club and the Boston Yacht Club. One design racing is facilitated through the Marblehead Racing Association and handicap racing occurs under PHRF and IMS handicapping through the Mass Bay Sailing Association.
The Corinthian Yacht Club is open seasonally from the end of April through the end of October and can be raised on VHF channel 9 upon approach. Due to the popularity of the harbor in the summer, one should make reservations by calling ahead to 781-631-0005 and ask for the Waterfront. The Corinthian Yacht Club is the large, gray building to port as one enters the harbor. It is located on Marblehead Neck, a peninsula that forms the eastern shore of the harbor.
The nightly guest mooring fee is $45.00. The fee includes launch service to the Club or to downtown Marblehead itself where one can find numerous restaurants, shops, chandleries, and other yachting services. The Club offers showers and a laundry facility to transient mooring guests.
The Corinthian Yacht Club was founded on July 7,1885, to promote sailing of small boats with a youthful and competitive spirit. Initially the boats were craft of 16 to 30 feet, smaller than the yachts of the day, but today the members sail yachts of all sizes, enjoy cruising as well as racing and own power as well as sailing craft.
Photos of Corinthian Yacht Club